Italian Assets Slump Again as Ripples Spread Across Europe
Italian Assets Slump Again as Ripples Spread Across Europe
(Bloomberg) -- Italian assets were pummeled again on mounting concern over the populist coalition's fiscal plans, with the moves rippling across European debt markets.
Bond yields climbed to the highest levels in almost three years, while the premium to cover a default in Italy's debt was the stiffest since October. The local benchmark stock index dropped for a second day, while the euro remained under pressure as investors fret that proposal by anti-establishment parties to issue short-term credit notes -- so-called "mini-BOTs" -- will lead to increased borrowing in what is already one of Europe's most indebted economies.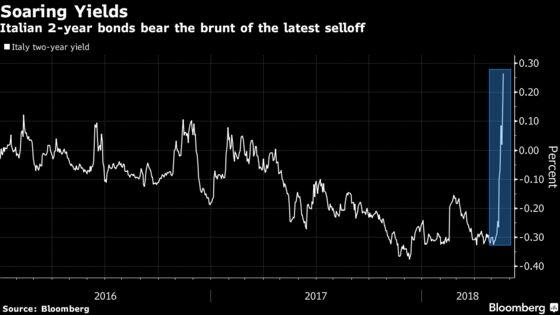 After overlooking an inconclusive election result in March, investors are now pushing Italian risk premiums higher. Bond yields surged last week on concern that the populist parties would seek a debt writedown, which has now been accentuated by fears of what mini-BOTs mean for the third-biggest economy in the euro zone.
"The market will remain on somewhat of a knife edge as regards the intended plans and as the coalition government itself evolves," Rabobank International strategists led by Richard McGuire wrote in a note. "The fiscal credibility of the plan is far from guaranteed."
Two-year Italian yields climbed as much as 19 basis points to touch about 0.28 percent, the highest in nearly three years. Those on the nation's 10-year notes rose as much as 19 basis points to 2.42 percent and ended the day at 2.39 percent. The FTSE MIB index of shares traded 1.7 percent down, after falling as much as 2.1 percent earlier in the day. The cost of protecting against defaults on Italian bank and insurance senior debt has jumped to the highest since August.
Much of the selling stemmed from the supposed proposals to assess the feasibility of issuing small, euro-denominated Treasury bills, according to traders, who asked not to be identified because they aren't authorized to speak publicly. The move is seen by some as a step toward a parallel currency. Fitch Ratings said that the coalition's program would "significantly increase" the general government deficit and raises risk to the country's sovereign credit profile.
"What is seen as a de facto parallel currency would be a major negative development for the euro should any new Italian government seek to pursue it," wrote Viraj Patel, a foreign-exchange strategist at ING Groep NV in London in a note to clients. "A further widening in spreads would place downward pressure on euro-dollar."
The markets will now be looking for more detail on how the formation of the government will proceed. Luigi Di Maio, leader of the Five Star Movement, said he had proposed Giuseppe Conte, a Florence law professor with no political experience, as candidate for the premiership to President Sergio Mattarella.
The government needs an "economics heavyweight" with budget credibility, said Peter Chatwell, head of rates strategy at Mizuho International Plc. "Italian bonds are not the right long for those with market-to-market issues right now," said Chatwell. "Instead, being long core bonds, and increasing duration, is the better risk-reward."
--With assistance from Chiara Remondini, Tasos Vossos and Brian Chappatta.
To contact the reporter on this story: John Ainger in London at jainger@bloomberg.net
To contact the editors responsible for this story: Ven Ram at vram1@bloomberg.net, Neil Chatterjee