'Dip-Buying Army' Is Back as Day Traders Seize on China Drop
'Dip-Buying Army' Is Back as Day Traders Seize on China Turmoil
(Bloomberg) -- As Beijing's crackdown on corporate China roiled Wall Street, tenacious day traders once again bought the dip.
Days after backstopping U.S. stocks with record equity purchases, retail investors plowed almost $1.7 billion into the market on Tuesday, according to Vanda Research.
It looks like the Robinhood-powered cohort sunk their millions into exchange-traded funds, including technology stocks.
The world's largest ETF, the $383 billion SPDR S&P 500 ETF Trust (SPY), posted the biggest inflow since March on Tuesday, adding $3.55 billion. The $182 billion Invesco QQQ Trust Series 1 (QQQ) received $474 million, bringing the four-day tally to more than $3.2 billion.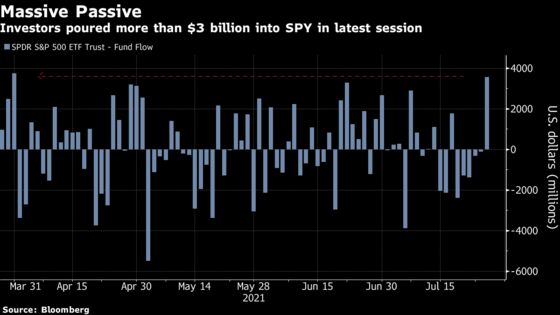 Chinese stocks including those listed abroad have been in turmoil as the Asian nation attempts to implement far-reaching reforms in several sectors including education and technology. Concern over the regulatory crackdown helped contribute to a downbeat day for U.S. equities on Tuesday, with the S&P 500 finishing 0.5% lower.
"As soon as U.S. equities dropped on Chinese contagion fears, the dip-buying army showed up again," Ben Onatibia and Giacomo Pierantoni wrote in Vanda's weekly note.
Retail investors sought out beaten-up single stocks including tech, Vanda research shows. Three Chinese American Depositary Receipts (ADRs) -- electric-vehicle makers NIO Inc. and XPeng Inc. and e-commerce giant Alibaba Group Holding -- were among the most-purchased companies, according to the data provider which tracks order flows and traffic on trading platforms.
Chinese companies listed in the U.S. rebounded Wednesday as Beijing's securities regulator convened a virtual meeting with major investment banks in a bid to restore market calm. The Nasdaq Golden Dragon China Index rose 6.4% at 9:53 a.m. in New York with the ADRs of NIO adding 3%, those of Alibaba gaining 2.8% and XPeng 5.9%.
"Chinese ADRs are the latest example of how retail behavior has changed over the past four months," Onatibia and Pierantoni wrote. "From driving triple digit returns in high multiple stocks, they have turned into dip buyers in underperforming ones."
There have been only a few cases this year when the retail crowd has moved in the same direction as equity prices, the pair note: Meme stocks and space shares like Virgin Galactic Holdings Inc. Using that insight to predict potential retail-driven melt-ups, Vanda says cryptocurrencies "could enjoy a decent run," in particular Bitcoin.
"The rebound in Bitcoin was most likely driven by a short squeeze," they said. "We still haven't seen a major increase in long positions but there are enough hints to suggest that retail investors are starting to pile in."