Future Retail Vs Amazon: Delhi High Court's Control Googly
Delhi High Court's order is likely to sway regulators in favour of Future Group-Reliance Retail deal, experts say.
23 Dec 2020, 11:13 AM IST
The Delhi High Court's order this week has resulted in a pyrrhic victory for Amazon.com Inc. against Future Retail Ltd.
The court upheld Amazon's right to make representations to statutory authorities against the Future Group-Reliance Retail Ventures Ltd. deal. But it also made made several observations in its order that could potentially upend the U.S. retail giant's 2019 investment in Future Coupons Pvt. Ltd. —Future Retail's parent.
Experts BloombergQuint spoke with said that the bench shouldn't have expressed an opinion on whether Amazon's rights vis-à-vis Future Retail Ltd. amount to control. But since it has, regulators like the Securities and Exchange Board of India and the Competition Commission of India will now be forced to investigate the 2019 agreements between Future Coupons-Amazon and Future Retail-Future Coupons.
Sitesh Mukherjee, an independent legal counsel, told BloombergQuint that on the one hand the high court upheld the legal sanctity of the emergency arbitration award but on the other, it ruled on aspects that are a subject matter of arbitration proceedings.
"These prima facie findings are something that would sway the regulators," Mukherjee pointed out. To that extent, the judgment has traversed beyond the issues that the court was required to decide upon. It was only required to answer whether Amazon could rely upon the emergency arbitration award to write to the regulators, he said.
The high court order has given leverage to Future Retail and Reliance Industries Ltd., corporate lawyer Murali Neelakantan said. The order, he said, has forced Amazon on the back foot by making way for regulators and the government to examine these agreements. "This is the part where Amazon would be worried and I suspect it would also become one of the grounds for appeal," Neelakantan said.
Delhi High Court's Control Googly
The Delhi High Court bench of Justice Mukta Gupta analysed the clauses of three agreements:
Future Retail's shareholders agreement with Future Coupons.
Future Coupons' shareholders agreement with Amazon.
Future Coupons' share subscription agreement with Amazon.
Read together, the court ruled, the covenants prima facie transgress from a protective right to a controlling right in favour of Amazon.
Justice Mukta Gupta noted that the line between veto rights which may be protective and ones that may be constituted as exercising control is thin. According to the judgment:
Through the Future Coupons shareholders' agreement, a control was created even on the voting rights of the promoters of the company in relation to their certain decisions as shareholders of Future Retail.
It was clear that Amazon's consent was required by Future Retail to act upon "reserved matters" and that without the consent of Amazon, Future Retail was only entitled to deal with and carry out "permitted transactions".
For any sale or transfer which is not a permitted transaction, Future Retail would require the express consent of Future Coupons, which would, in turn, require the express consent of Amazon for all such matters.
Given the narrow ambit of permitted matters that can be taken up by Future Retail without requiring the consent of Amazon, there is prima facie a very limited discretion available to Future Retail for conducting its own business.
Besides creating protective rights, the conflation of the three agreements showed that it transgressed to control over Future Retail, which would require government approvals and, in its absence, will be contrary to FEMA-FDI rules.
Delhi High Court Order
The reference is to the FDI policy for multi-brand retail which permits foreign investment of up to 51% under the government route.
Control Googly: Regulatory Action
The court's prima facie opinion on the issue of control and potential violation of the FDI policy could prove to be a cue for regulators to ignore Amazon's request to consider the emergency arbitration award while examining Future Group's deal with Reliance Retail, both the experts pointed out.
All parties—Amazon, Future Group and its promoters, group entities—had acquiesced to the 2019 agreements, Neelakantan said. All of them will have to face consequences if a FDI policy violation is found, he said.
There will be consequences under FEMA, prosecution under SEBI's Takeover Code. The consequences will be largely financial—it's unlikely that someone will go to jail in India for a white-collar crime.
Murali Neelakantan, Corporate Lawyer
Besides the possibility of penalties, the court's observation may have also given a leg up to the Future Group-Reliance Retail deal, Mukherjee pointed out.
FRL and Reliance would rely on this order to ask the regulators to approve their deal. They might ask the regulators to ignore the Amazon transaction on grounds that the court has found a prima facie case of violation of FDI policy.
Sitesh Mukherjee, Independent Legal Counsel
The 2019 agreements, they could argue, would not be able to create any rights in favour of Amazon to interdict the current transaction, Mukherjee added.
Watch the full discussion here: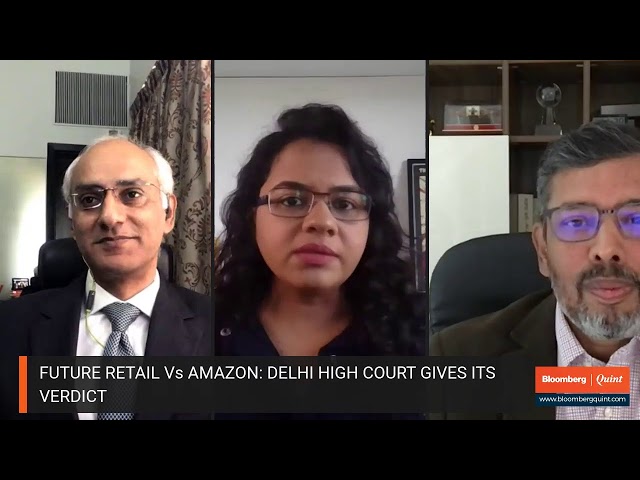 Get Your
Daily Newsletter
Get market moving news, top news & compelling perspectives
---