Covid-19: Can Government Force Private Sector To Foot The Wage Bill? 
Employers directed against layoffs—are all employees covered? Can annual leaves be adjusted? What happens post lockdown?
No revenue. Cash reserves drying up. No government relief in sight. In light of all of these realities amid the Covid-19 outbreak, businesses are dialling up lawyers to ascertain what decisions they can or cannot take relating to their workforce.
The central government has directed all states to mandate that employers in all industries, shops and establishments must pay their workers without any deduction during the period of lockdown. States have issued their own and varied versions of this direction. Both have relied on the Epidemic Diseases Act, 1987 or Disaster Management Act, 2005 to issue directions to the private sector. These directions have raised three important questions:
Do these laws give the government such wide statutory powers so as to impose restrictions on private sector vis-à-vis their workforce?
Given some states have issued only advisories, compared to mandatory directions, is employee retrenchment an option there?
What steps should the government take to help private sector tide over the wage burden?
The Question Of Government's Powers
Disaster management has been defined to mean a continuous process of planning and implementing measures which are necessary to mitigate or reduce the risk of any disaster or its severity or consequences.
It's perhaps the broad wording here that lawyers say government has relied on to issue directions to employers.
The government has the power to take measures to reduce the risk, impact or effect of a disaster but it's debatable whether the imposition of financial obligations on employers for the benefit of workers could be said to be a mitigation of effects of a disaster, Vaibhav Kakkar, partner at law firm L&L Partners, said.
The various directives regarding payment of complete salary appear to be, prima facie, measures aimed at addressing the economic consequences of the lockdown, rather than the spread of the epidemic itself. In a sense, such measures appear to be an economic redistribution of costs associated with the lockdown within the private sphere.
Vaibhav Kakkar, Partner, L&L Partners
Covid-19: Policy Challenges And Traps In Restarting The Economy
Atul Gupta, employment law partner at Trilegal, told BloombergQuint that in the long run, some of these directions can be challenged but the reality on the ground today is these are being used by local administration and cops to go after organisations if employees have been laid off.
The purpose of the Disaster Management Act, he said, is to contain the spread of the virus. To that extent, there is some sense and logic in applying these directions to the migrant labour population — if these people are left without any income and have no savings, they will be constrained to travel back home which will defeat the containment measures of the law.
But to extend it to all employees, by passing sweeping orders, can be construed as an overreach of authority. My sense is if the lockdown continues and these orders are extended, industry will strongly challenge it.
Atul Gupta, Partner, Trilegal
There's also confusion around what category of workforce the central government notification applies to. It uses the word "worker" and not employees, which Kakkar pointed out, could cover only blue-collar workers.
The notification was issued to stem the flow of migration of poor workers across the country. Against that backdrop, most practitioners are presuming that 'worker' is essentially meant to cover workman category. So, it's essentially blue-collared and not white collared — not professional and managerial or administrative capacity employees, he said.
Covid-19: The Path Out Of Economic Lockdown... To Reincarnation
Different States, Different Strokes
Taking a cue from the central government, Delhi, Telangana, Haryana and Puducherry have issued mandatory directions to private companies to pay wages or salaries in full to all workers and employees during the lockdown period. Others, such as Karnataka and Maharashtra, have issued only advisories to employers to not terminate or deduct wages/salaries of workers or employees.
In such situations, the economics has to be kept in mind— broadly, large companies with the capacity to sustain losses and lower profits have decided to bear the employee costs for some time, Gupta said. But, he added, that's only a small percentage of business in India; a vast majority is small and medium enterprises who don't have the balance sheets to support employee costs.
Those organisations are either suggesting voluntary measures like pay cuts or are offering sabbaticals, especially in the hospitality and travel sector. They are telling employees that this is a temporary suspension of your work engagement and when business picks up, you can come back.
Atul Gupta, Partner, Trilegal
Where the direction is advisory in nature, businesses who can't bear the wage burden should be in a position to lay off white-collar employees or reduce salaries, as long as the relevant contractual obligations are complied with, Kakkar said.
More importantly, a lot of state government notifications expired on March 31 and haven't been extended, barring, for instance, Delhi. So the advice to private sector employers will differ from state to state, Kakkar said.
The same applies to the issue of whether privileged or sick leaves can be adjusted against the lockdown period.
In certain states, the authorities have gone as far as saying that during the period of lockdown, when the establishments are shut, the employees will be deemed to be on duty. In such states, to count this period towards privileged or sick leave may not be possible.
Vaibhav Kakkar, Partner, L&L Partners
But there are many states that have not been so specific in their directions and they have left it for employers to handle it, and a lot of our clients are trying to adjust this period towards employees' fixed and privileged leave, Kakkar pointed out.
How Much Financial Flexibility Do States Have To Deal With Covid-19 Strain?
If the lockdown period and directions to employers continue, the clamour for relief will get louder, the experts said.
To avoid large-scale job losses, Australia has announced a wage-subsidy scheme, under which certain employers will be able to receive a $1,500 payment per retained worker every two weeks. Canada has introduced a 75 percent wage subsidy to eligible employers for up to 12 weeks, retroactive to March 15, 2020. This is in addition to 10 percent temporary wage subsidy, which will allow businesses to reduce payroll deductions. Similar reliefs have been announced by several other countries like the U.S., the U.K., Singapore, Ireland, etc.
So far, our government's focus has rightly been on the marginalised population but a relief package for private sector needs to announced at the earliest – they can either pay the businesses directly, or offer interest free/low interest loans to pay salaries, Gupta suggested. Apart from measures to facilitate job retention, the government should also relax norms to allow employers to catch up with lost time and productivity in the future, such as reasonable relaxations in overtime limits and associated payment obligations, he said.
Several businesses are also expecting goods and services tax refunds. The government should either facilitate that expeditiously or allow banks to extend working-capital loans against them, Kakkar said.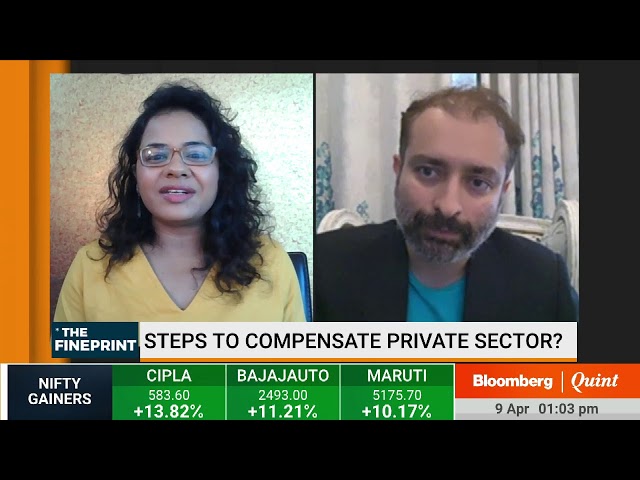 (Updated to exclude Haryana from the list of states that have only issued an advisory)