All You Need To Know: Dinesh Engineers IPO
Dinesh Engineers Ltd. plans to raise up to Rs 185 crore through its three-day IPO that opens on Sept. 28.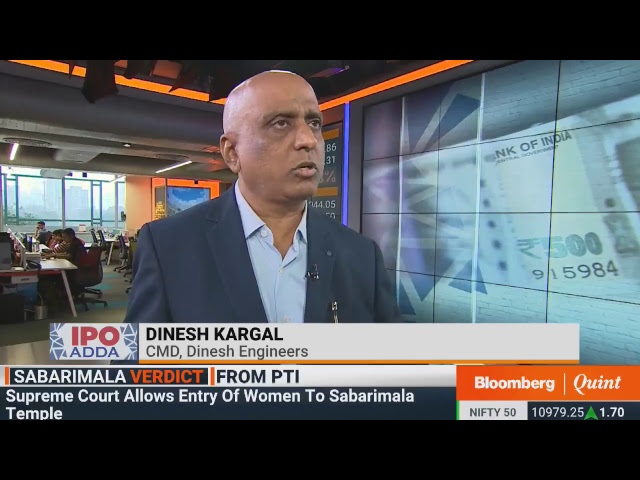 Dinesh Engineers Ltd. plans to raise up to Rs 185 crore through its three-day initial public offering that opens on Sept. 28 as its promoters look to dilute stake and raise capital to expand business.
The passive communication infrastructure provider will issue around 1 crore equity shares at a price band of Rs 183–Rs 185. It will use 84 percent of the proceeds of the IPO—in which the promoters will dilute stake by 25.5 percent—to expand its fibre network in India, while the remainder will be used for general corporate purposes, it said in the IPO's red herring prospectus.
Business
Dinesh Engineers lays fibre cables for private telecom operators and has secured IP-I license from the Department of Telecommunications. The company has created its fibre network of around 7,500 km in 10 states, in addition to laying a network of around 9,500 km for telecom operators and internet service providers. The company's network is being used by India's top three telecom operators.
The Mumbai-headquartered company is also in the business of laying gas pipelines in the city for Mahanagar Gas Ltd. through subcontracting.
As of April, the company had an order book of Rs 420 crore to lay fiber network of around 5,600 km in length, which is slated to be executed by the end of the ongoing fiscal. Demand for its leasing business rose, improving the utilisation levels from 20 percent to 32 percent in the three years through March 2018.
The company is expected to benefit from increased data consumption. This, coupled with future deployments like 5G networks and internet of things, is expected to keep the demand for deep fiberisation of networks elevated.
Financial Highlights
The net worth of the company, as on Mar. 31, was close to Rs 108 crore, translating to book value of Rs 27 per share. The total debt on its books was around Rs 26 crore
Dinesh Engineers' revenue and net profit rose at a compounded annual growth rate of 57 percent and 119 percent in the two years through March 2018, on the back of higher revenue bookings in the year ended March 2018. The company booked unbilled revenue worth Rs 122 crore in the same fiscal compared with Rs 24 crore in the year ended March 2016.
Earnings before interest, tax and depreciation and amortisation rose at a CAGR of 97 percent over the same period (over FY16-18), while margins expanded by 1300 basis points to 35.7 percent.
The company, on average, generated 20-25 percent operating margins from the contract business, while the leasing business generated margins of 85-90 percent.
Over the last three years the company has also been (continuously) generating cash flow from operations and its cash conversion cycle has remained low.
The company generated 40.5 percent of its topline from Bharti Airtel Ltd. and 26.5 percent from Reliance Corporate IT park in Navi Mumbai. A similar trend repeated in the years ending March 2016 and 2017.
Return ratios of the company were strong on the back of aggressive revenue bookings in the year ended March 2018.
Valuations
Dinesh Engineers' earnings per share for the year ended March 2018 is Rs 15.6 and at the upper end of the price band, price-to-earnings ratio stands at 11.8 times, according to BloombergQuint's calculations.