Defaulting Shadow Lender Faces India Insolvency Filing
Small Industries Development Bank of India has filed an insolvency plea against IL&FS
26 Sep 2018, 8:18 AM IST
(Bloomberg) -- A creditor is seeking to push India's troubled Infrastructure Leasing & Financial Services Ltd. into insolvency, risking regulators' efforts to calm financial markets and the group's attempts to independently restructure its borrowings.
Small Industries Development Bank of India on Tuesday filed an insolvency application against IL&FS and its unit at the National Company Law Tribunal in Mumbai, people familiar with the matter said. Separately, IL&FS's biggest shareholder, Life Insurance Corp. of India, won't rule out raising its stake in the beleaguered company, LIC Chairman V.K. Sharma said.
Defaults by the IL&FS group, a systemically important non-bank lender, have rattled India's investors this month with anxiety levels in the equity market rising to a seven-month high and companies finding it harder to close bond sales. SIDBI is the first lender to seek resolution of the IL&FS group's debt under the Insolvency and Bankruptcy Code, India's first consolidated bankruptcy law that was passed in 2016.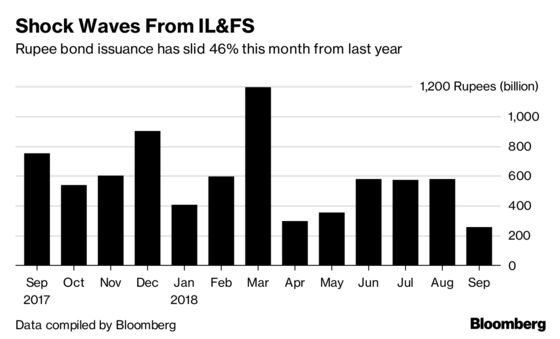 "Considering how deeply integrated the group is into the country's financial system, a forced liquidation under bankruptcy law could trigger mayhem," said Pooja Dutta, a managing partner at Mumbai-based law firm Astute Law. "Even if the court admits the case, there will be still time for IL&FS group and its stakeholders to work out a resolution plan."
Government-backed SIDBI is seeking to recover 4.5 billion rupees ($62 million) from the parent company and about 5 billion rupees from unit IL&FS Financial Services Ltd., said the people, asking not to be identified as the information isn't public.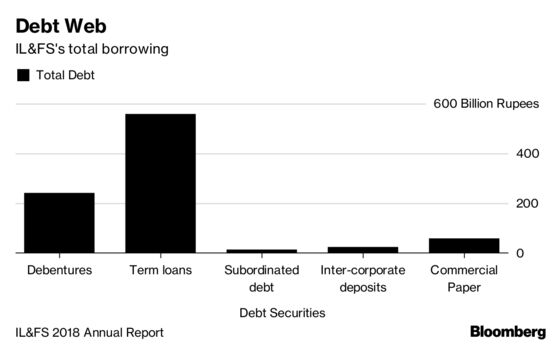 People familiar with the matter said earlier this month that SIDBI had sought a repayment plan from IL&FS.
A spokeswoman for IL&FS didn't immediately respond to an email and two phone calls to her office, while a spokesman for SIDBI didn't answer two calls to his mobile phone. The Economic Times earlier reported that SIDBI may file an insolvency application against IL&FS by Wednesday.
The IL&FS group, which had total debt of $12.6 billion as of March 31, has missed payment on more than five obligations this year, including those to SIDBI. The distressed group had filed an application with the National Company Law Tribunal seeking some accommodations for itself and 40 units under the Companies Act to reach a compromise with creditors outside the insolvency courts, according to an exchange filing.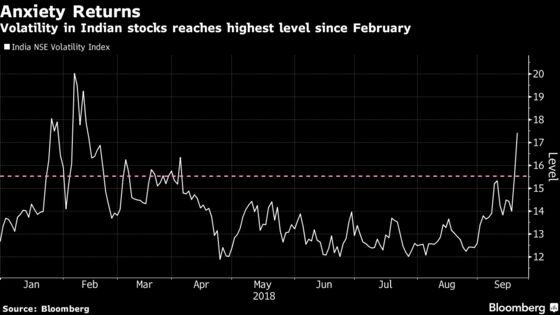 "The compromise formula needs to be proposed by IL&FS and then put to vote," said Amit Agarwal, head of corporate practice at law firm SNG & Partners. "It will require the approval of both the creditors and the shareholders. If the creditor does not like the plan, they have the right to reject it and file a complaint," in court, he said.
IL&FS's woes and a weakening rupee have led to three Indian companies pulling 58 billion rupees of debt sales this month, the most in at least a decade, according to data compiled by Bloomberg. Most of the creditors to the beleaguered group are local institutions which limits the fallout to the South Asian nation's credit market.
"In the near term, investors would be cautious," said Aneesh Srivastava, chief investment officer at IDBI Federal Life Insurance. "At this stage no issuer is sure of what quantum of funds they can raise in the local credit market."
--With assistance from Anto Antony.
To contact the reporters on this story: Siddhartha Singh in New Delhi at ssingh283@bloomberg.net;Anurag Joshi in Mumbai at ajoshi53@bloomberg.net;Saloni Shukla in Mumbai at sshukla72@bloomberg.net;Aashika Suresh in Mumbai at asuresh20@bloomberg.net
To contact the editors responsible for this story: Candice Zachariahs at czachariahs2@bloomberg.net, ;Andrew Monahan at amonahan@bloomberg.net, Ken McCallum
Get Your
Daily Newsletter
Get market moving news, top news & compelling perspectives
---