Yellow Vest Protests Could Cut Into French Economy If They Last
Protests against gasoline taxes show no signs of abating.
(Bloomberg) -- The so-called "Yellow Vest" protests in France have hurt retail sales and contributed to a decline in consumer confidence. If they continue, there may be a broader hit to the economy.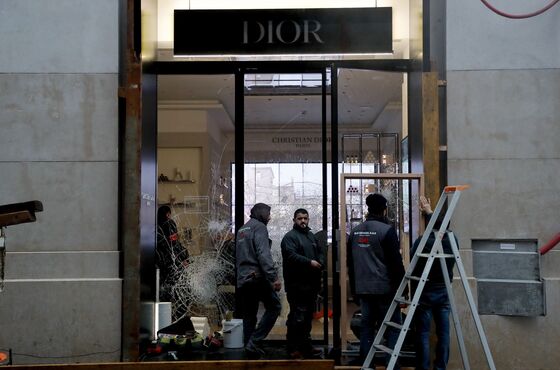 The movement -- initially focused on higher gasoline taxes -- has led to almost two weeks of roads, fuel depots, and warehouses being sporadically blockaded. Finance Minister Bruno Le Maire has warned of a "serious economic impact" and said France's reputation is being damaged.
"If the protests ended tomorrow, the impact on economic growth would be zero," Philippe Waechter, chief economist at Ostrum Asset Management in Paris, said in an interview. "But if it keeps going into December then the consequences are going to start getting serious. And given the support they are getting from the public, it looks like they're going to keep going."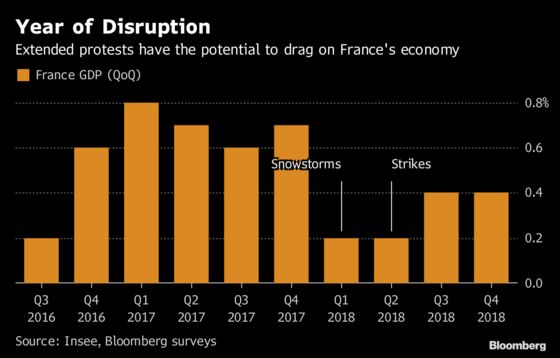 Extended disruptions would be another hit to the economy after growth in the first half was held back by bad weather and strikes. Expansion recovered in the third quarter, but economic growth this year is still forecast to slow. The Bank of France sees 1.6 percent, down from 2.3 percent in 2017.
Sales by large national retail chains declined 18 percent last Saturday during protests against gasoline tax increases, and fell 35 percent the previous Saturday, according to the Federation of Commerce and Retailing. "We are talking of losses in the billions of euros," Jacques Creyssel, the federation's president said after meeting Le Maire on Tuesday.
Francois Cabau, an economist at Barclays, said the actions have disrupted supply chains and warned that private consumption could be affected this quarter, a key retail period that includes the Christmas shopping season.
Job creation at supermarkets was already weak, said ING economist Julien Manceaux. "If the sector is indeed to create more jobs, as intended in the surveys, it needs consumers inside the shops, not outside around a brazier," he wrote in a note to clients.
Creyssel said about 100 stores were blockaded during the weekends, with some stores short of supply because of disruption at depots.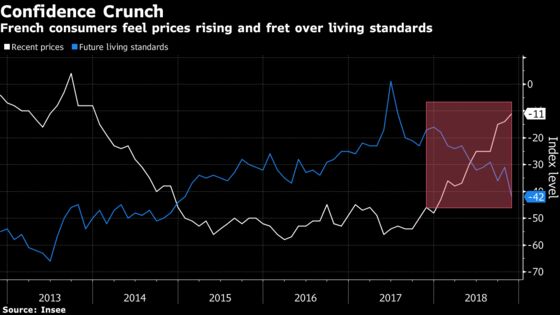 Consumer spending figures for November won't be reported until late December, but confidence figures for November showed a sharp decline in sentiment. The poll echoed the fears of the protesters: faster inflation, falling living standards, rising unemployment.
"These trends fit with the sentiments of discontent" among the protesters, Cabau said.
The Yellow Vests began as a protest against gasoline taxes. But the demands of many local chapters of the decentralized movement have expanded to higher pensions, repeal of other taxes and restoration of the wealth tax, and even to cuts to politicians' salaries.
Le Maire said the government will propose measures such as extending tax payments, activating some temporary unemployment schemes, and allowing more Sunday openings to allow retailers to make up lost revenue.
"The government could repeal the gas tax tomorrow and the protests would keep on going," said Waechter. "It's become more political than economic."
To contact the reporters on this story: Gregory Viscusi in Paris at gviscusi@bloomberg.net;William Horobin in Paris at whorobin@bloomberg.net
To contact the editors responsible for this story: Ben Sills at bsills@bloomberg.net, Geraldine Amiel, Fergal O'Brien