Worst Liquidity Crunch in Two Years Spooks Indian Financiers
Debt crisis at Infrastructure Leasing & Financial Services Ltd. is stoking borrowing costs in credit markets. 
(Bloomberg) -- The worst liquidity crunch in India's banking system in more than two years is adding to refinancing risks for shadow banks shaken by a rare default in the country's money markets.
A debt crisis at Infrastructure Leasing & Financial Services Ltd., an Indian conglomerate that's missed payments on more than five obligations since August, is stoking borrowing costs in credit markets. That's making for a double whammy, as central bank steps to prop up a weakening rupee have sopped up liquidity and as recent corporate tax payments had already left less cash in the financial system.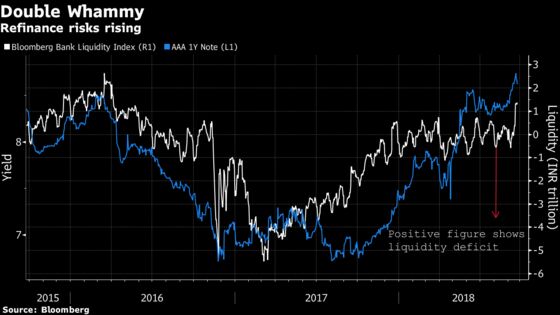 Panic seeped into India's stock market last week, and the government vowed support for financial markets on Monday. Worsening in sentiment could thwart Prime Minister Narendra Modi's efforts to bolster Asia's No. 3 economy.
Non-bank lenders and mortgage financiers, the largest net borrowers from the financial system, would have to bear the brunt of any continued turmoil. Refinancing risks are rising at such lenders, adding to broader unease as the banking system battles the world's highest bad debt ratio after Italy, according to Moody's Investors Service's India unit.
"Tightening liquidity is pushing up borrowing costs," A.M. Karthik, sector head for financial sector ratings at ICRA Ltd., said by phone. "Non-bank lenders, which are heavily dependent on market borrowings, are likely to face rollover and repricing risks."
Liquidity in the financial system is currently at a deficit of around 1.4 trillion rupees ($20 billion), according to the Bloomberg Economics India Banking Liquidity Index, having moved from a surplus of 580 billion rupees earlier this month. Advance tax outflows in the second half of the month were a major factor in the cash crunch. The average yield on one-year corporate notes jumped to the highest since 2015 last week, before easing.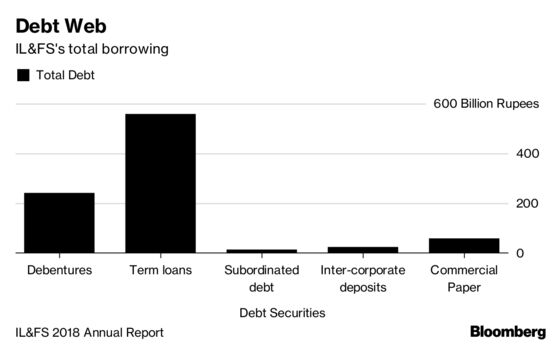 Meanwhile, IL&FS is seeking to raise more than 300 billion rupees selling assets to cut debt, according to an internal memo seen by Bloomberg.
To contact the reporters on this story: Saloni Shukla in Mumbai at sshukla72@bloomberg.net;Ameya Karve in Mumbai at akarve@bloomberg.net
To contact the editors responsible for this story: Andrew Monahan at amonahan@bloomberg.net, Anto Antony