Korean Won Surges to Become Asia's Best-Performing Currency
Catalysts: agreement of an initial U.S.-China trade deal and improving local data suggesting economy is turning the corner.
(Bloomberg) -- South Korea's won has surged through the pack to become the best-performing Asian currency for December after being the outright worst over the previous 11 months.
The catalysts behind its revival: the agreement of an initial trade deal between the U.S. and China -- South Korea's two largest trading partners -- and improving local data that suggest that economy is turning the corner following a series of interest-rate cuts.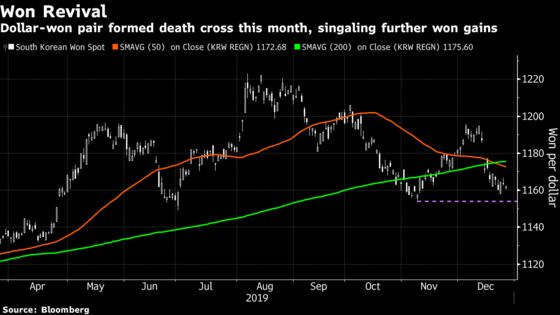 The won has jumped 1.7% this month after President Donald Trump said Dec. 13 the U.S. and China had reached a phase-one trade deal, helping to limit any further escalation of the dispute that has pummeled emerging-market assets this year.
An upswing in Korea's economic outlook has also helped fuel the won's uptrend. Consumer confidence climbed to a seven-month high in November, while a slowdown in exports and imports eased, and a gauge of manufacturing rose for a second month. Economists predict that industrial production and inflation data this week will continue the recent positive trend, according to Bloomberg surveys.
There are still challenges ahead. The Bank of Korea said Friday uncertainties over economic growth remain high and it will continue to manage interest rates "accommodatively." The central bank cut its benchmark by 25 basis points in July and again in October to stimulate growth.
Technical analysis is sending a positive signal. The dollar-won exchange rate formed a so-called death cross earlier this month, with the 50-day moving average dropping below the 200-day one. This suggests the dollar will keep weakening against the won.
At the same time, a key gauge of momentum -- moving average convergence divergence -- indicates the outlook for dollar-won remains skewed toward the downside as it is below both zero and the signal line. If the pair drops below November's low of 1,153.95, it may extend declines to 1,140 before the end of January.
Both fundamentals and technical indicators are sending the same signal: 2020 will be a better year for the won.
Below are the key Asian economic data and events due this week:
Monday, Dec. 30: South Korea industrial production, Thailand trade balance and BoP current account balance
Tuesday, Dec. 31: South Korea CPI, manufacturing and non-manufacturing business surveys, China manufacturing and non-manufacturing PMIs
Wednesday, Jan. 1: South Korea trade balance
Thursday, Jan. 2: Thailand CPI and business sentiment index, China Caixin manufacturing PMI
Friday, Jan. 3: No major economic data
To contact the reporter on this story: David Finnerty in Singapore at dfinnerty4@bloomberg.net
To contact the editors responsible for this story: Tan Hwee Ann at hatan@bloomberg.net, Nicholas Reynolds, Brett Miller