Virus to Cut American Meat Consumption For First Time in 6 Years
(Bloomberg) -- Americans are kicking their meat-eating habit, and it's all thanks to the novel coronavirus.
That's according to researchers at the University of Missouri's Food & Agricultural Policy Research Institute, who predict this year's per-capita meat consumption will fall for the first time since 2014. Higher prices and a reduction in disposable income will hurt demand for beef, pork and turkey, while Americans will eat marginally more chicken.
The decline is a turnaround for a nation known for its cheap burgers and chicken wings. It also comes as a survey showed that more than half of Americans think the food industry should focus more on meat-free foods to ease shortages caused by the spread of the virus among meat workers.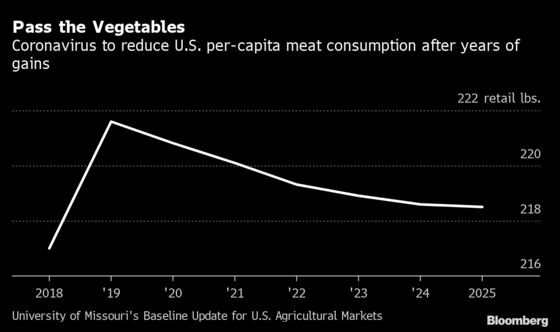 Per-capita meat consumption won't return to last year's levels until at least after 2025, according to the university's long-term projections.
Consumers are paying more as some plants are operating below capacity to maintain social distancing, while packers are facing higher costs to supply protective equipment including masks and plexiglass dividers. All of that means animals are backing up on the farm, hurting wholesale prices for everything from cattle to hogs at a time the market was already expected to be oversupplied.
Chicken prices are expected to decline 15% this year "in response to larger supplies and demand weakness," researchers said in a report Tuesday. Hog prices will fall about 10% and steer costs by almost 3% largely due to reduced demand from restaurants and meat-plant closures.