Ukraine Update: U.S. Imposes Sanctions on More Russian Elite
Ukraine Update: Putin cited "positive movement" in talks, hours after saying he would bring in fighters from the Middle East.
(Bloomberg) -- Ukraine's top diplomat pushed back on the suggestion of "positive movement" in talks with Russia cited earlier by President Vladimir Putin, saying there's been "zero progress." U.S. stocks fell after the comments, and the dollar rose.
The U.S. State Department sanctioned several Russian businessmen tied to ABR Management and Novikombank. Several U.S. hedge fund companies with investments from Russian billionaire Roman Abramovich were told to freeze his assets after he was sanctioned by the U.K., the Wall Street Journal reported.
The European Union has proposed to double the size of a fund that provides weapons to Ukraine. It also disbursed 300 million euros in financial aid, with more to come. The U.S. will ban imports of Russian caviar and vodka in its latest effort to pressure the Kremlin.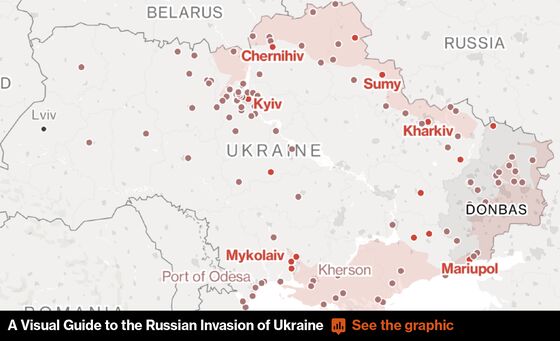 Roskosmos to Demand Removal of Sanctions (7:36 a.m.)
Roskosmos, Russia's state-owned space exploration company, will write to its partners in the international space station to demand the removal of sanctions imposed on the corporation, Russian news agency TASS reported. 
The Russian company will be writing to NASA, the Canadian Space Agency and the European Space Agency to demand the removal of illegal sanctions against it, TASS said, citing the company's general director, Dmitri Rogozin, via his Telegram channel.
Seafarers Denied U.S. Entry, Dow Says (3:48 a.m.)
Custom and Border protection officials are refusing to let some Ukrainian and Russian seafarers enter the U.S. out of fear they could try to stay in the country, Dow Jones reported.
Crew members from Russia and Ukraine working mostly on commercial ships have been blocked from entering the U.S. at ports including Port Canaveral, Florida, Port Arthur, Texas, and Port of New Orleans, Dow said, citing industry and government officials familiar with the matter. 
U.S. State Dept. Issues More Sanctions (2:56 a.m.)
The U.S. State Department sanctioned Russian businessmen tied to ABR Management and Novikombank, seeking to target elites close to Russian President Vladimir Putin, according to a release.
The sanctions apply to ABR Management and Yuri Kovalchuk, Kirill Kovalchuk, Dmitri Lebedev, and Vladimir Knyaginin for their ties to leadership within the company. Four Novikombank board members, chair Elena Georgieva, German Belous, Andrey Sapelin, and Dmitri Vavulin, were also sanctioned.
Abramovich's U.S. Investments to Be Frozen: WSJ (2:30 a.m.)
Several U.S. hedge fund companies with investments from Russian billionaire Roman Abramovich were told to freeze his assets after the businessman was sanctioned by the U.K., the Wall Street Journal reported.
Since late February, Abramovich had been attempting to sell investments in funds including those managed by Empyrean Capital Partners in Los Angeles and Millstreet Capital Management in Boston, the paper said, citing unidentified people familiar with the matter. He also accessed hedge fund investments through New York-based Concord Management, the paper said.
Russia Will Block Instagram From Monday (1:25 a.m.)
Instagram's chief, Adam Mosseri, said that the photo-sharing site will be blocked in Russia as of Monday. "This decision will cut 80 million in Russia off from one another, and from the rest of the world," Mosseri tweeted on Friday evening. "This is wrong."
Earlier Friday, Russia's media regulator said it would restrict access to Instagram, which is owned by Meta Platforms Inc. The government had already blocked the use of Meta's Facebook social network and has limited access to Twitter Inc.
Ukraine Says City's Mayor Seized by Russian Forces (11:55 p.m.)
Russian forces abducted the mayor of Melitopol, the southern city occupied earlier in the conflict, Ukraine's Foreign Ministry said in a statement, calling the act a violation of international laws that prohibit the taking of civilian hostages during war. 
U.S. Sanctions Duma Members, Billionaire Vekselberg (10:53 p.m.)
The U.S. sanctioned 12 members of the Russian parliament, the board of VTB bank, and the family of Kremlin spokesman Dmitry Peskov. It also targeted the assets of billionaire Viktor Vekselberg, including his plane and yacht. 
The Treasury Department's measure includes provisions aimed at preventing sanctioned individuals from using cryptocurrencies to evade the penalties. 
U.S. Stocks Fall as Ukraine Sees Talks Stalled (10:37 p.m.)
U.S. stocks declined, closing their worst week since January, after Ukraine said there's been no progress in talks with Russia. The S&P 500 fell 1.3%, while the dollar gained on demand for safe-haven assets. Oil rose, snapping a two-day decline. 
Repairs Begin at Chernobyl (9:46 p.m.)
Technicians started repairing damaged power lines at the Chernobyl nuclear power plant, the International Atomic Energy Agency said in a statement, adding that additional fuel for diesel generators was delivered. 
At the Zaporizhzhya plant, which Russia now controls, exploded munitions from the March 4 attack are being detected and disposed of. 
Belarus Says It's Getting Weapons From Russia (9:11 p.m.)
Russia has agreed to provide "modern" military equipment to Belarus, state-owned news agency Belta cites a spokeswoman for the country's president Alexander Lukashenko as saying after his meeting in Moscow with Putin. She didn't elaborate on the exact nature of weapons to be provided.
Deutsche Bank Pulling Out of Russia (8:41 p.m.)
Deutsche Bank said it's in the process of winding down remaining business in Russia and won't start any new business in the country.
"Like some international peers and in line with our legal and regulatory obligations, we are in the process of winding down our remaining business in Russia while we help our non-Russian multinational clients in reducing their operations," the bank said.
Biden Says He Won't Fight World War III for Ukraine (8:02 p.m.)
President Joe Biden said he would defend NATO to the point of World War III, but that he won't risk touching off a wider conflict by fighting Russia in Ukraine and ruled out establishing a no-fly zone. 
"As we provide this support to Ukraine, we're going to continue to stand together with our allies in Europe and send an unmistakable message: that we will defend every inch of NATO territory," Biden said in Philadelphia on Friday during a speech to Democrats. "If they move once -- granted, if we respond, it is World War III, but we have a sacred obligation on NATO territory."
Pentagon Official Says More Jets Won't Help Ukraine (7:45 p.m.)
A U.S. defense official said it isn't clear that Ukraine needs additional fixed-wing fighter aircraft like the MiG's Poland offered earlier this week, but that it could use more surface-to-air and shoulder-fired anti-aircraft systems. 
Ukraine's air force has about 56 aircraft and they are only flying about five to 10 hours a day, the official said. That's in part because of Russia's wide coverage of Ukraine air space. So it makes no sense to U.S. officials that shipping additional jets to Ukraine will tip the balance, the Pentagon official said.
The Ukrainian air force consists of MiG-29 and SU-27 air-to-air fighters and SU-24 and SU-25 ground attack jets, according to the 2022 edition of the International Institute for Strategic Studies annual worldwide military balance review.
Germany Suggests Serbia Join Russia Sanctions (6:54 p.m.)
Countries seeking to join the European Union need to align their foreign policies with the bloc, Germany's Foreign Minister Annalena Baerbock said in Belgrade after talks with Serbia's President Aleksandar Vucic, whose government hasn't sanctioned Russia.
Baerbock praised Serbia for supporting United Nations resolutions that condemned Putin's invasion, but Germany also expects "clear words and actions," she said. Serbia wants to become an EU member while also staying on good terms with Russia.
EU Vows Fourth Russia Sanctions Package for Saturday (6:19 p.m.)
European Commission President Ursula von der Leyen said the EU will introduce a fourth package of sanctions on Saturday to isolate the Russian economy. 
The proposal includes revoking Moscow's most-favored nation trading status, banning the export of luxury goods to Russia, making sure Russians can't use crypto assets to circumvent sanctions and prohibiting the import of some iron and steel goods from Russia.
Kuleba Cites No Progress in Russia Talks (5:57 p.m.)
Ukraine's top diplomat said he doesn't see the progress in Russian-Ukrainian talks cited by Putin and reiterated that the country could compromise on neutral status if offered security guarantees. 
Ukrainian Foreign Minister Dmytro Kuleba said high-level talks Thursday with his Russian counterpart yielded no progress. 
"There was zero progress in talks, so it's hard for me to understand what kind of progress president Putin is referring to," Kuleba said on Bloomberg Television. 
Ongoing talks also don't impact Russia's behavior on the ground, adding that a meeting between Putin and Ukraine's president would be helpful.  
Biden Warns Kremlin About Chemical Weapons (4:50 p.m.)
Biden warned Moscow against using chemical weapons in its war on Ukraine, saying Russia it pay a severe price if it did. 
White House Press Secretary Jen Psaki on Thursday accused the Kremlin of trying to establish a pretext to use chemical weapons during its invasion by making unsubstantiated claims that Ukraine had been developing weapons of mass destructions.  
Biden also said that sanctions are crushing Russia's economy, noting that the country's stock market has been closed for more than a week. "They know the moment it opens, it'll probably collapse," he said.
U.S. Import Ban to Cover Russian Caviar, Vodka (4:05 p.m.)
The U.S. will ban imports of seafood, including caviar, from Russia, that are worth about $1.2 billion annually, as well as beverages, spirits and vinegar worth a much smaller $24 million, as part of a series of steps toward ending normal trade relations. 
Many popular Russian-branded vodkas are produced in other nations, including in the U.S. A few brands are produced in Russia.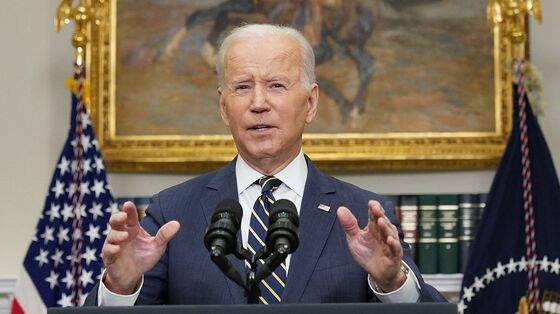 Biden outlined the ban on Friday, and called on Congress to revoke Russia's most favored nation trading status. He spoke earlier on Friday with Ukrainian President Volodymyr Zelenskiy. 
Russian Economy is Already in a Tailspin (2:59 p.m.)
The Russian economy was on track to expand for a second straight year, but two weeks into the Vladimir Putin's invasion of Ukraine output has fallen about 2% -- a drop that rivaled the full-year contraction during the pandemic in 2020, Bloomberg Economics estimates. 
More than $30 billion has likely already been erased from Russia's annual gross domestic product, based on last year's prices, and the slump for 2022 is likely to be about 9%. 
Wall Street Russia Pullback Unravels Decades of Work (2:53 p.m.)
Thousands of staff, billions of dollars and three decades of complicated relationships are unraveling in a matter of days as some of the world's largest banks start to pull back from Russia. 
Goldman Sachs Group. Inc. became the first to announce its withdrawal on Thursday, with other banks following or considering their next steps.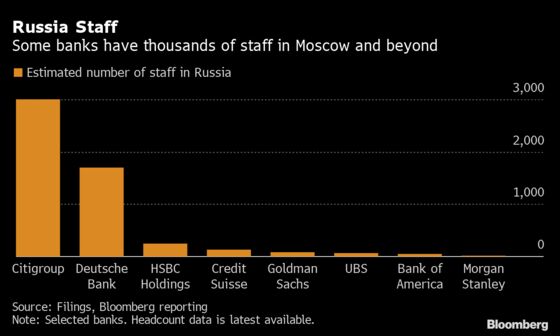 Finland's President Calls on Putin to Enact Cease-Fire (2:37 p.m.)
Sauli Niinisto also told Putin about the call he'd had earlier with the Ukrainian president and "brought up, once more, President Zelenskiy's preparedness to talk directly with President Putin," his office said in an emailed statement after the one-hour conversation Friday with the Russian leader.  
Finland's leader has been called a "Putin whisperer" for his fairly frequent interactions with the Russian. Niinisto kept in touch with Putin after the 2014 annexation of the Crimea peninsula, even as other leaders shunned contact.
Russia Moves to Ban Meta as 'Extremist': Interfax (1:15 p.m.)
Russian prosecutors have asked a court to ban Meta's Facebook and Instagram as "extremist," Interfax reported, the latest move in a growing crackdown on foreign social networks.
Authorities blocked access to Facebook last week under a new media law, but the "extremist" designation, if approved by a court, would effectively criminalize Meta's operations in Russia. The company's Instagram app would also be blocked.
Earlier, Vyacheslav Volodin, the speaker of Russia's lower house of parliament, called on prosecutors to investigate Meta after Reuters reported that the company had temporarily eased internal restrictions on calling for violence against Russians and Russian soldiers amid the Ukraine invasion.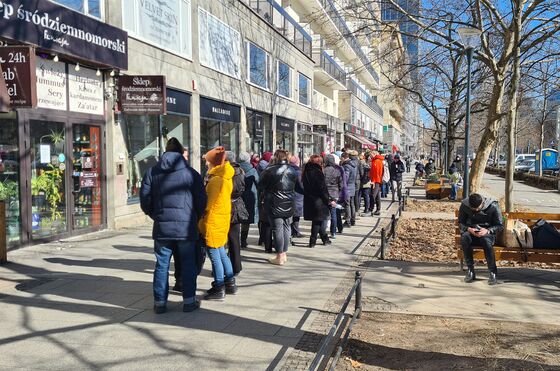 Putin Sees 'Positive' Developments in Talks (12:32 p.m.) 
President Vladimir Putin noted "positive" shifts in talks between Russia and Ukraine, IFX reported him saying at the start of a meeting Friday with Belarus President Alexander Lukashenko.
"There's some positive movement there, as our negotiators have told me," Putin said, noting talks are happening "practically on a daily basis." He gave no further details but it's likely a reference to President Volodymyr Zelenskiy this week indicating he's willing to discuss Ukraine adopting a more neutral status. 
Ukraine's leader has made clear though he won't cede any territory and is still agitating for membership of the European Union and for security guarantees from the U.S. and Germany, making it hard to see how there can be agreement on neutrality. Talks this week between the foreign ministers of the two countries failed to make any headway on even a humanitarian cease-fire to allow more civilians to evacuate.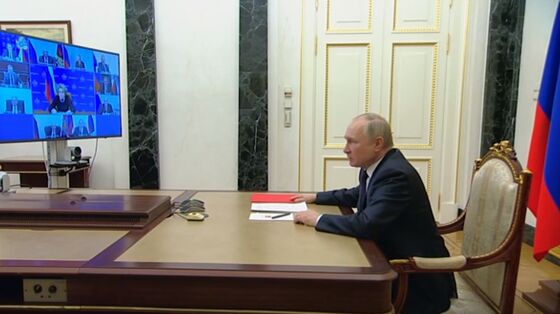 Iran Nuclear Talks Put on Pause (11:40 a.m.)
World powers and Iran suspended their efforts to revive the 2015 nuclear accord, reigniting a crisis that's set to roil oil markets. 
The rupture follows escalating tensions between the Kremlin and the White House. Moscow warned this week that it wanted U.S. guarantees that sanctions imposed over its invasion of Ukraine wouldn't affect its planned partnership with Iran. 
Tehran was upbeat in its first response, saying the pause could provide "momentum" to resolve the issues blocking the path to an agreement. 
UN Says 2.5 Million Have Fled Country Since Invasion (11:00 a.m.)
Refugees fleeing Ukraine during the Russian invasion, now into its third week, have reached 2.5 million, Filippo Grandi, United Nations high commissioner for refugees, said Friday. Millions more are displaced within Ukraine.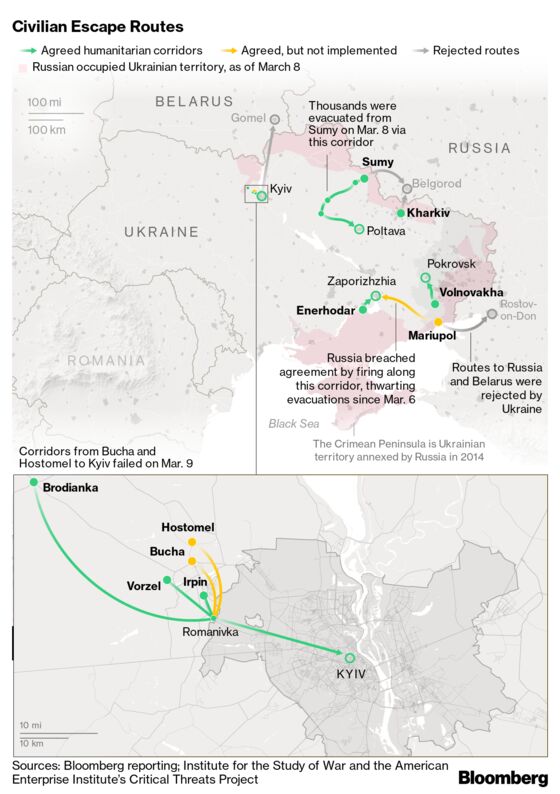 A majority of those fleeing are entering Poland, where border guards said total refugee inflows reached 1.52 million on Friday morning. 
Although Poland's daily refugee inflow from Ukraine fell by 26%, 87,000 people crossed border from Ukraine on Thursday. Warsaw Mayor Rafal Trzaskowski has said there are around 290,000 Ukrainian refugees in Poland's largest city.
With assistance from Bloomberg