U.S. Trade Chief Resets Union Relations in Worker-Centric Push
(Bloomberg) -- President Joe Biden's trade chief addressed the largest U.S. labor federation in a move that its head heralded as a historic first, saying that workers will be at the center of the administration's economic plans.
U.S. Trade Representative Katherine Tai criticized the trade policies of past administrations, saying that while some sectors of the economy benefited, far too many communities were left behind, with jobs being sent overseas.
"This created a trust gap with the public about free trade," Tai said in a speech in Washington Thursday. "We want to make trade a force for good that encourages a race to the top. The first step to achieving this goal is creating a more inclusive process. In order to understand how trade affects workers, we want to come meet with, listen to, and learn from them."
Labor-union membership slumped to about 11% of wage-and-salary employees in 2020 from almost one-third of workers in 1960. Offshoring, technological advancements, legal barriers to organizing and the shrinking share of factory workers have all contributed to the drop. Reducing income inequality through creating "good-paying, union jobs" is a centerpiece of Biden's $2.25 trillion infrastructure-focused economic plan, which puts organized labor at the heart of the agenda.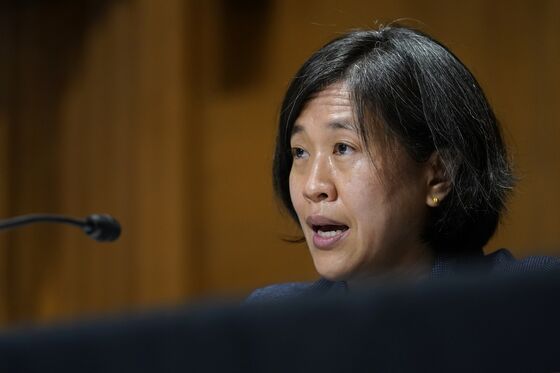 The Protecting the Right to Organize Act needs to become law, Tai said. "We can't rebuild an economy that works for everyone without empowering workers and giving them a voice to secure the better wages, benefits, and working conditions they deserve."
Calling Tai a "friend of the working people" and a "champion" for them, AFL-CIO President Richard Trumka said that over the past 40 years, Republican and Democratic administrations have "pushed the harmful neoliberal free-trade agenda" based on "the myth that lowering tariffs and expanding trade would somehow make all of us better off. Well, it didn't work -- workers became poorer."
Tai, who took office in March, is playing a key role in setting and implementing Biden's trade policy, which the administration has promised will focus on workers and the middle class as the nation recovers from the Covid-19 pandemic.
Attention on labor issues increased in May after the U.S. asked Mexico, under a rapid-response mechanism in a revamped trade deal between the two nations and Canada, to review whether employees at a General Motors Co. facility are being denied their rights. The AFL-CIO filed another complaint. Mexico responded by raising concerns about conditions for workers in the U.S. agriculture and meat packing sectors.
Biden's administration has a number of concerns about Mexico's performance and commitment to the trade deal that it plans to discuss, and it's vowed to use all available tools to make sure that Mexico and Canada live up to their promises in the deal, Tai said in April.
"Under previous agreements, labor petitions could -- and did -- languish for years without a response from the administration. But we have acted quickly," Tai said at the AFL-CIO event.
"We know that our past policies have encouraged this outsourcing," she said. "We want to -- need to correct -- for those mistakes by strongly enforcing our trade agreements, building resilient supply chains here in the U.S."
Trumka called Tai's speech "a vision workers have yearned for years to hear." She received a standing ovation for her remarks.
"Growing inequality around the world is truly a threat to democracy itself, and much of that inequality was spurred on by globalization," Trumka said. "A worker-centered trade policy is the beginning of unraveling of that inequality and rebalancing the scales so the economy really does work for everybody in the economy and not just at the very top."