U.S. Producer Prices Accelerated in May, Stoking Price Pressures
(Bloomberg) -- Prices paid to U.S. producers rose more than expected in May, fueling companies to raise prices on American consumers.
The producer price index for final demand increased 0.8% from the prior month after a 0.6% gain in April, according to data from the Labor Department Tuesday. Excluding volatile food and energy components, the so-called core PPI rose 0.7%.
The PPI, which tracks changes in production costs, has surged in recent months. Elevated materials prices and shortages paired with shipping bottlenecks and rising labor expenses have enlarged production costs. Meantime, a burst of pent-up demand has outstripped capacity, stoking further price gains.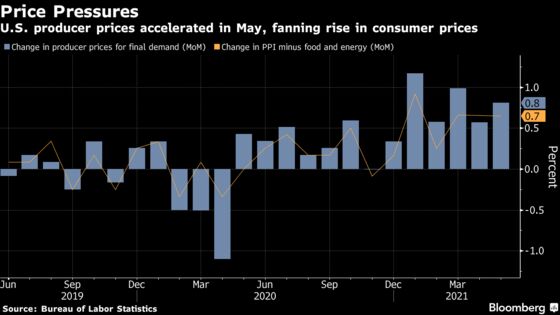 Federal Reserve officials have said the upward pressure on prices will likely prove temporary, but others worry recent price gains will lead to a more sustained pickup in inflation. A Bloomberg survey of economists called for a 0.5% monthly gain in the overall measure and the same advance in the core figure.
Data out last week signaled businesses are successfully passing along at least some of the burden of higher costs along to consumers. The consumer price index advanced more than expected for a third straight month in May, extending a months-long buildup in inflation.
The annual advance in the overall PPI rose to a 6.6% gain, a figure biased higher by the fact that it was compared to the soft reading seen in May of last year. The increase was the largest in data going back to 2010.
Almost 60% of the May increase in the index for final demand can be traced to a 1.5% advance in prices of goods. The costs of nonferrous metals, motor vehicles, and beef and veal all climbed.
Prices for services rose for a fifth straight month, with more than 40% of the increase attributable to automobile-retailing margins, which surged 27.3%.
Producer prices excluding food, energy, and trade services -- a measure often preferred by economists because it strips out the most volatile components -- advanced 0.7% from the prior month and rose 5.3% from a year earlier.