U.S. Jobless Claims Hit One-Year High Amid Shutdown, Holiday
(Bloomberg) -- Filings for U.S. unemployment benefits rose by more than forecast to the highest since September 2017 amid the tail end of the government shutdown and a holiday that typically coincides with volatility in the data.
Jobless claims jumped from a five-decade low to 253,000 in the week ended Jan. 26, exceeding all but one forecast in a Bloomberg survey calling for 215,000, Labor Department figures showed Thursday. The 53,000 rise was the most since just after Hurricane Harvey struck Texas in 2017 and lifted the four-week average, a less-volatile measure, to 220,250.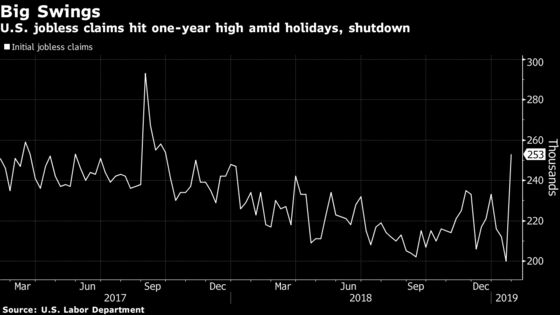 The increase may reflect some workers who were affected by the longest shutdown in U.S. history. While federal workers' claims aren't factored into the headline jobless benefits data, many contractors and businesses were also hit.
Initial filings by federal employees fell 10,680 to 14,739 on an unadjusted basis in the week ended Jan. 19. The five-week shutdown ended Jan. 25, though it may take more time for the claims data to fully reflect the closure.
Analysts may discount the latest results, as the end of the shutdown could lead to a reversal and because last week included the Martin Luther King Day holiday Jan. 21. Filings tend to show swings around such breaks, and January can be particularly volatile because it follows the holiday season.
Should the rise in claims be sustained over time, it may raise concern about the labor market's health. Jobs data due Friday are projected to show conditions remain solid.
Continuing claims, reported with a one-week lag, climbed by 69,000 to 1.782 million in the week ended Jan. 19.
The unemployment rate among people eligible for benefits held at 1.2 percent for an eighth week.
The previous week's claims were revised up to 200,000 from 199,000.
--With assistance from Jordan Yadoo.
To contact the reporter on this story: Katia Dmitrieva in Washington at edmitrieva1@bloomberg.net
To contact the editors responsible for this story: Scott Lanman at slanman@bloomberg.net, Jeff Kearns