U.S. Jobless-Claims Figures Inflated by States' Backlog-Clearing
The backlogs make it difficult to get a clear reading on U.S. jobless claims, though the broader trend is helpful.
(Bloomberg) -- The weekly U.S. jobless claims report shows that 11 million people are on a new federal aid program geared toward the self-employed, accounting for more than a third of total claims across the country.
But that figure -- cited by economists alongside traditional claims in regular state programs as helping provide a more complete picture of unemployment -- likely overstates the true count. In some cases, by a lot.
Eight states and Puerto Rico have reported Pandemic Unemployment Assistance claims higher than those for regular state programs, according to figures released Thursday. On the surface, this suggests there are many more self-employed and gig workers losing their jobs.
In reality, states contacted by Bloomberg News explained that the totals reflect backlogged claims from prior weeks finally making their way through the system. In addition, with each retroactive week counted as a separate claim, one person can account for multiple claims in the tally.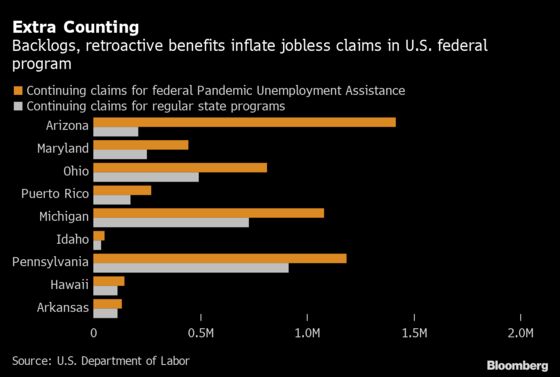 While the inflated weekly figures probably don't significantly alter the picture of a wide swath of the U.S. workforce being out of a job, they add to difficulties in deciphering what's happening in the labor market using the weekly jobless claims data -- already rife with quirks, errors, and complications. The claims report gave a misleading signal ahead of the May jobs report, spurring economists to expect a sharp decline in payrolls before the numbers instead showed a record gain.
"The backlogs make it difficult" to get a clear reading on jobless claims, though the broader trend seen in the reports is still helpful, said Brett Ryan, senior U.S. economist at Deutsche Bank AG.
A spokesperson for the U.S. Labor Department, which releases national figures each Thursday, didn't immediately have a comment on the issue on Monday.
One example of the overcounting: Arkansas's figures showed 134,478 federal PUA continuing claims for the week ended June 6, compared with 113,623 on regular state unemployment benefits.
Zoë Calkins, a spokeswoman for the Arkansas Department of Commerce's Division of Workforce Services, said claimants can backdate their filing to as early as the start of February. That means a resident who filed for PUA last week and lost their job in that period could file for 21 weeks, and be counted 21 times in that state's total PUA claims tally.
"The continued claims numbers reflect the number of weeks, not the number of individuals that filed continued claims," she said, adding that "the appearance of the rise in PUA continued claims is due to processing continued claims filed for earlier weeks."
Hawaii and Pennsylvania's labor departments had similar responses. Pennsylvania, where PUA claims are 30% higher than regular state claims, also highlighted that the program was relatively new, and cited the backdating.
Also pumping up the figures is fraud that cost a handful of states hundreds of millions of dollars.
Hawaii disbursed about $16 million in benefits for fraudulent claims, and stopped another $77 million from being disbursed. The Secret Service is investigating a Nigerian crime ring in connection with a wave of fraud targeting the PUA program, according to reports in May.
Whether it's fraud or backlogs, eventually the PUA figures should start to better reflect the number of out-of-work people claiming benefits.
"Like many states across the nation, Idaho did not have a system in place to process PUA claims, therefore the PUA workload was processed in an ad-hoc database," Salvador Vazquez, a spokesperson for Idaho's labor department, said in an email. "Future trends for PUA claims will look more normal in the coming weeks."
Other states with elevated PUA claims either didn't respond to requests seeking comment or weren't immediately able to respond.