U.S. Jobless Claims Fall to 49-Year Low, Below All Forecasts
(Bloomberg) -- Filings for U.S. unemployment benefits unexpectedly fell, dropping to the lowest since December 1969, as the labor market tightened further.
Jobless claims decreased to 202,000 in the week ended March 30, below all economist forecasts, Labor Department figures showed Thursday. The four-week average, a less-volatile measure, declined to 213,500, the lowest since October.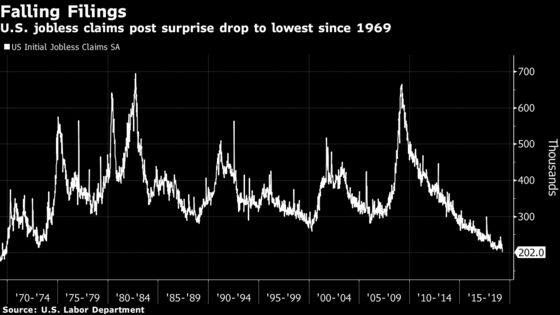 The surprising drop in claims is an indication that the labor market continued to tighten, with employers holding onto workers and loath to let them go. The level of continuing claims, which had moved up in recent months, fell the most since November in the week ended March 23.
At the same time, the ADP Research Institute said this week that firms added the fewest workers in March since 2017, potentially signaling some weakness.
A Bloomberg survey of economists had forecast a gain of 215,000.
Continuing claims, which are reported with a one-week lag, fell by 38,000 to 1.717 million in the week ended March 23.
The unemployment rate among people eligible for benefits held at 1.2 percent. The level has been unchanged since May.
The previous week's claims were revised up to 212,000 from 211,000.
--With assistance from Jordan Yadoo.
To contact the reporter on this story: Katia Dmitrieva in Washington at edmitrieva1@bloomberg.net
To contact the editors responsible for this story: Scott Lanman at slanman@bloomberg.net, Jeff Kearns