Peak Doesn't Mean Weak as U.S. Economic Growth Set to Cool
U.S. Hurtles Past Peak Growth and There's No Need to Panic
The best growth of the expansion is likely behind the U.S. just as the world's largest economy reclaims its pre-pandemic level of output.
Gross domestic product likely revved up in the second quarter, fueled by the delivery of vaccinations, the unleashing of pent-up demand for services and a mixture of government and Federal Reserve stimulus.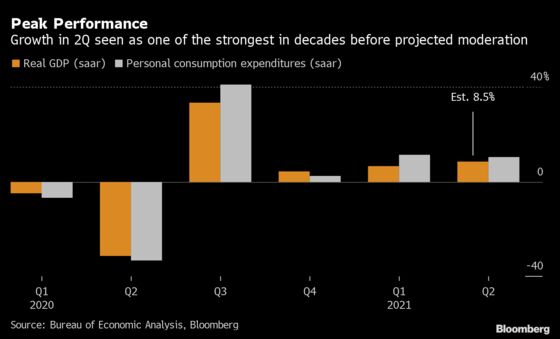 The median estimate of economists surveyed by Bloomberg calls for an annualized 8.5% increase in the April-June period when government data are released Thursday. That would be the fastest rate in decades, save for the 33.4% surge during last year's third quarter after swathes of lockdowns ended.
But the second quarter is also set to mark "peak growth," with an economic backdrop that includes risks from new Covid-19 variants, which have rattled sky-high markets in recent weeks.
"It means that the economy will be seeing a moderation in growth from the extraordinary pace that we had seen back in the spring," said Michelle Meyer, head of U.S. economics at Bank of America Corp.
Even so, the growth trajectory will be more than double the pre-pandemic rate, Meyer said. The second-quarter report will likely show a record value of inflation-adjusted GDP. By year's end, the level will likely eclipse the presumed value of output had the health crisis never happened and the economy instead grown at trend.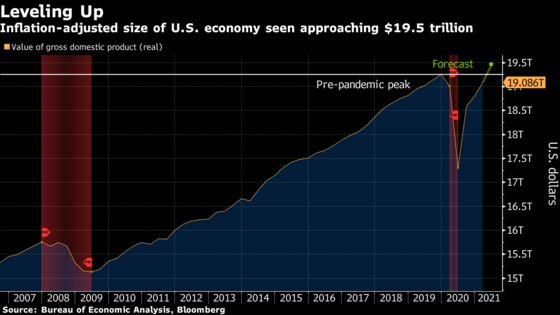 While a slowdown should be no surprise given the rapid pace of recovery, it does mean further outsize gains in employment may be harder to come by next year and inflation could subside from the fastest pace in 13 years.
At Goldman Sachs Group Inc., economists just this week revised down their growth forecasts for the final two quarters of 2021 by one percentage point to a still-strong 8.5% and 5%, respectively. They also project the U.S. will return to more trend-like growth of 1.5% to 2% in the last half of 2022.
The uncertainty is likely to mean Fed officials, who conclude a two-day meeting later on Wednesday, can be patient with removing their policy support.
"A slowdown was always in the cards," and markets have likely turned too pessimistic about the sharpness of that slowdown, said Kathy Bostjancic, chief U.S. financial economist at Oxford Economics. "Even with the delta variant, the consumer is still in really great shape."
Personal consumption is expected to increase at an annualized pace of 10.5% in the second quarter, one of the strongest paces ever recorded. Economists see elevated savings providing consumers with the wherewithal to keep the economy motoring ahead.
What Bloomberg Economics Says...

"Economic activity in the second quarter reflected stronger consumer and business confidence... Both the composition and magnitude of the gain will show activity better-positioned ahead of fresh risks emanating from the delta variant."

-- Andrew Husby, Eliza Winger and Niraj Shah, economists
Though some concerns in the market about growth may be overblown, the economic picture does look different than imagined just a few months ago.
Persistent supply chain and labor constraints have curbed the nation's ability to meet demand, stoking stronger-than-expected price gains. At the same time, the highly infectious delta variant has led to a new spike in Covid-19 cases and could impact future activity by consumers.
Both manufacturers and service providers like restaurants have emphasized the challenge of filling open positions. That holds back how much the economy can produce. Meanwhile, there are nearly seven million fewer Americans on payrolls than before the pandemic.
Those constraints, which are likely to persist for some time, are stifling Americans' ability to shift spending from goods to services. Inflation-adjusted wages have also declined, curbing the willingness of some to spend.
Goldman Sachs now expects consumer spending growth to decelerate from 10.4% in the second quarter to 5.5% in the third.
"The coming growth deceleration now looks likely to be a bit sharper than we had anticipated," economist Ronnie Walker wrote in a note Monday. That's because the rotation from spending on goods to services looks "to be less seamless" than previously expected.
Not everyone thinks there will be a slowdown in consumption in the third quarter. James Sweeney, chief economist at Credit Suisse Group AG, expects the third quarter to be even stronger than the second, with consumer spending accelerating from 10% in the second quarter to 11.3% in the third quarter.
Looking ahead to later this year and beyond, categories such as residential investment -- which includes home construction -- and inventories are poised to offer a tailwind for growth in the future as factories work to replenish stockpiles.
That paired with the expectations for another round of fiscal stimulus, low debt levels among households and extra cash will help support above-trend growth into next year, according to Bank of America's Meyer.