U.S. Economy's Path Less Certain After Record Quarterly Growth
The U.S. economy bounced back with a record yet temporary surge of growth in the third quarter as businesses reopened.
(Bloomberg) -- The U.S. economy's record third-quarter surge has already given way to a more moderate pace of growth, with a fresh jump in coronavirus infections and an extended deadlock over further stimulus threatening to weigh on activity.
Economists mostly projected fourth-quarter growth at an annual pace slightly below 3% to about 6% following Thursday's report, which showed gross domestic product jumped 33.1% in the July-September period. That figure largely reflected a rebound in economic activity after widespread lockdowns earlier this year.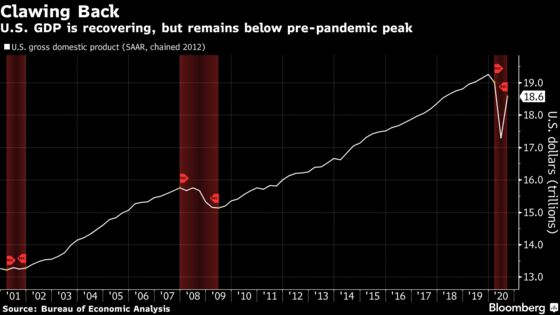 Analysts are betting the economy will continue to grow, amid solid gains in consumer spending, strong housing demand and businesses restocking inventories. Risks are rising, though, that the pickup in Covid-19's spread to record speed will hit businesses and jobs through renewed distancing and shutdowns, as it already has in Germany and France.
"There looks like there's still a fair amount of momentum," said Jay Bryson, chief economist at Wells Fargo & Co. "But there's a lot of risk right now -- downside risk generally -- as it relates to the re-acceleration of Covid."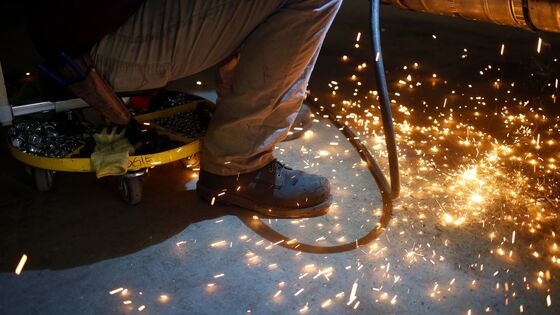 Even with the outsize gain, GDP is 3.5% below its prior peak, compared to a 4% shortfall in 2009 during the depths of the last recession. The economy is forecast to stay smaller than its pre-crisis size for several quarters or longer, and sectors such as travel, restaurants and health care remain below typical levels.
Other reports Thursday highlighted improvement in a job market that's still far from normal, and a possible leveling-off in the red-hot housing market.
What Bloomberg Economics Says...
"The pandemic will cap economic growth going forward, especially if case counts continue to accelerate into the winter months. The delay in the next round of fiscal support will exacerbate the slowdown."

-- Yelena Shulyatyeva, Andrew Husby, and Eliza Winger, economists

For the full note, click here
Labor Department figures showed applications for U.S. state unemployment benefits fell more than forecast last week, another sign of gradual healing in the labor market.
A report from the National Association of Realtors showed U.S. pending home sales unexpectedly declined in September for the first time in five months. Elevated asking prices and lean supply may be tempering the boom in housing despite record-low interest rates.
More broadly, the nation's economic rebound is continuing, though certain parts of the economy are recovering faster than others. Retail sales have already surpassed February levels and the manufacturing sector continues to strengthen amid renewed demand.
But the labor market has a much longer path to recovery. The unemployment rate, which was the lowest in decades before the virus, remains more than twice as high, with nearly 11 million fewer Americans on payrolls than there were in February. October's numbers are due next Friday.
In addition, permanent job losses and the number of long-term unemployed are on the rise, underscoring the scarring effects that may result from the pandemic-driven downturn. Colder weather may also curtail the outdoor dining that kept many restaurants afloat during the warmer months.
"To the extent that reopening drove the strength in Q3, not only have we already reopened but we may partially close a few things," said Michael Feroli, chief U.S. economist at JPMorgan Chase & Co. "That's really the elephant in the room when it comes to thinking about Q4."
The GDP report was followed later Thursday morning by Exxon Mobil Corp.'s announcement that it will slash its global workforce by 15% by the end of 2022 -- including 1,900 U.S. jobs -- an unprecedented culling by North America's biggest oil explorer.
With just five days until Election Day, President Donald Trump is counting on the GDP figures to give him a boost. It might be too late for the figures to have much impact, though, especially given more than 79 million Americans have already cast their vote.
Trump cited the latest report as evidence of his ability to guide the world's largest economy out of the pandemic. He tweeted Thursday that GDP was the "Biggest and Best" in U.S. history and adding that Democratic challenger Joe Biden would raise taxes and "kill it all."
Biden issued a statement saying "the recovery is slowing if not stalling," as well as "helping those at the top, but leaving tens of millions of working families and small businesses behind."