U.K. Labor Shortage Leaves Consumer Businesses Gloomy, CBI Says
U.K. Labor Shortage Leaves Consumer Businesses Gloomy, CBI Says
 Britain's consumer-facing companies including bars and restaurants turned pessimistic about the outlook in August as a shortage of workers to fill jobs after lockdown adds to costs and operational difficulties.
A quarterly survey by the CBI, the nation's biggest business group, showed optimism at minus 17% this month, down from a positive reading of 47% in May. It was the worst reading since the height of lockdown at the start of the year and coincided with the highest number of companies citing labor shortages as an investment constraint since the survey started in 1993.
The figures highlight a growing rift between companies that are bouncing back quickly after the pandemic recession and those struggling. While the CBI said business volumes for consumer companies returned to growth for the first time in three years, the index tracking their outlook for the future suggest slower growth ahead.
"Firms in sectors such as hotels, restaurants and travel do not expect this strength to persist into the next quarter, reflecting the pressure that consumer services firms continue to face," Charlotte Dendy principal economist for the CBI, said in a statement Thursday.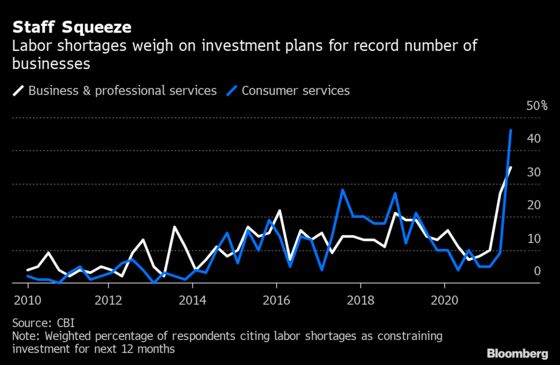 Services companies are shouldering higher costs and wages after the pandemic and Britain's exit from the European Union reduced the pool of available workers. An index tracing the outlook for costs reached its highest in two years. That's beginning to filter through to the prices consumer service companies charge, with average selling prices growing at the fastest rate since 2019. 
The outlook for hiring in consumer services dropped sharply to minus 35% from a positive reading of 38% in May
Labor shortages are also growing as a factor to limit investment in business and professional services
The CBI survey was conducted from July 29 to Aug. 16