U.K. Companies Boost Wages and Prices Amid Reopening Boom
British companies are expecting to raise prices and boost wages amid the strongest business confidence in more than four years, according to a survey published Tuesday. 
More than a third of firms anticipate increasing wages by at least 2%, reflecting labor shortages, and almost half plan price hikes, the latest Lloyds Business Barometer shows. Overall confidence rebounded to the highest level since April 2017. 
"This confidence is driven by the continued success of the vaccine rollout, the removal of lockdown restrictions and adjustments to self-isolation rules," said Lloyds Senior Economist Hann-Ju Ho. "Staff shortages remain a challenge, but as the economy moves back towards pre-pandemic levels we can be optimistic that the momentum for business confidence can be sustained in the months ahead."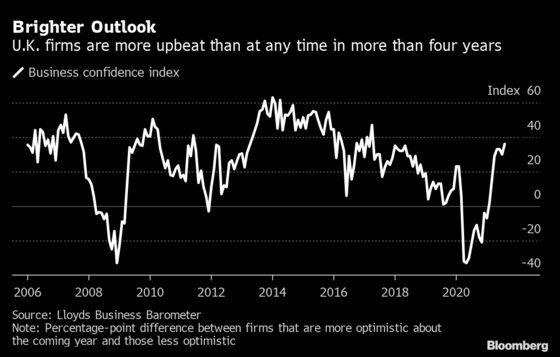 The findings underscore the price pressures building in an economy that has rebounded strongly since the lifting of lockdown restrictions. Inflation is accelerating, and the Bank of England says some withdrawal of monetary stimulus will be needed to return it to the 2% target over the next two years.
Service-sector confidence rose to the highest since early 2018, Lloyds Bank said. Manufacturers were also more upbeat, despite the supply-chain disruptions afflicting the industry. The survey, which sampled 1,200 U.K. companies during the first two weeks of August, also found:
Business confidence is the highest in the North West, the North East and London. It's lowest in Wales and Northern Ireland
Forty-four percent firms expect to increase prices for goods and services, while only 7% plan to lower them
The net balance of firms expecting to increase staffing levels was unchanged over the month