U.K. Carmakers Beset by Shortages in Worst July Since 1956
U.K. Carmakers Besieged by Shortages in Worst July Since 1956
(Bloomberg) -- U.K. car production plummeted in July to levels last seen 65 years ago as shortages of semiconductors and staff continued to wreak havoc on the auto industry.
Carmakers made only 53,438 vehicles, down 38% from a year ago and the lowest for the month of July since 1956, the Society of Motor Manufacturers and Traders said Thursday. Similar issues plagued auto manufacturers in June, when they had their second-worst showing for that month since 1953.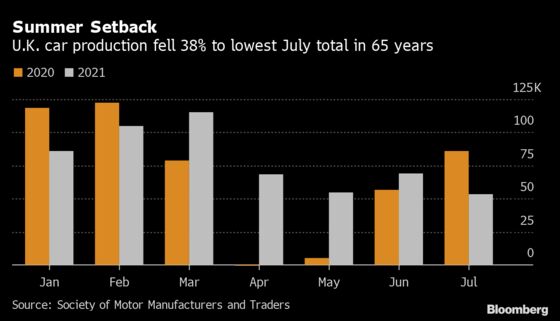 In addition to the chip shortage that has idled assembly lines around the globe, U.K. carmakers struggled with a wave of workers being "pinged" by the National Health Service's Covid-19 contact-tracing app. This month, the U.K. lifted the requirement for fully vaccinated adults to isolate after coming into contact with an infected person. 
"While the impact of the 'pingdemic' will lessen as self-isolation rules change, the worldwide shortage of semiconductors shows little sign of abating," Mike Hawes, the chief executive officer of SMMT, said in a statement. Hawes called for the government to reduce energy levies and business taxes for the sector.
Supply-chain issues derailed a short-lived run of positive earnings for Jaguar Land Rover owner Tata Motors Ltd., which posted a bigger net loss for the quarter ended in June than any analyst expected. JLR warned last month that deliveries in the current quarter will be about 50% lower than planned.
U.K. carmakers aren't alone. In Germany, Volkswagen AG's Wolfsburg plant -- the world's largest car factory, employing some 60,000 people -- restarted following its usual summer break on only one shift. Audi, the group's biggest profit contributor, also extended the summer recess at its two factories in the country by a week.
Stellantis NV, Europe's second-largest automaker, also has extended annual factory downtime at several sites due to the Covid-19 outbreak in Malaysia that is crimping chip supplies further. Plants in Rennes and Sochaux, France, and Eisenach, Germany, are shut this week.