Turkey Stirs Rate-Cut Speculation With Shift to Core Price Focus
Turkish Central Bank Shifts Monetary Focus to Core Inflation
The Turkish central bank shifted its policy focus to a narrower set of core prices amid accelerating inflation, paving the way for a cut in interest rates demanded by President Recep Tayyip Erdogan. The lira fell. 
Governor Sahap Kavcioglu has pledged to keep the benchmark interest rate above inflation, but sticking to that guidance had become increasingly tricky as headline price gains soared. By instead prioritizing core inflation, which strips out volatile items like food and energy, the central bank has given itself more room to avoid raising policy rates, or even to cut them.
While headline inflation accelerated again in August to an annual 19.25%, above the benchmark interest rate of 19%, core inflation dropped nearly 50 basis points to 16.76%.
"The extraordinary conditions, especially due to the pandemic, increase the importance of core inflation indicators," Kavcioglu said in a speech in Ankara Wednesday. 
Supply bottlenecks as economies recover from the pandemic are causing headaches for policymakers worldwide. 
"Globally, when monetary policy stance is determined, core indicators excluding transitory factors emanating from areas outside monetary policy's influence are taken as the basis," he said. "Central banks and policy makers follow food price changes, core inflation developments and impact of accelerating inflation on inflation expectations."
Kavcioglu, who kept the benchmark unchanged for a fifth meeting last month, has faced calls from Erdogan to deliver a rate cut as early as this month. He is the fourth governor of the central bank since 2019, with the president firing his three immediate predecessors for tightening policy too much.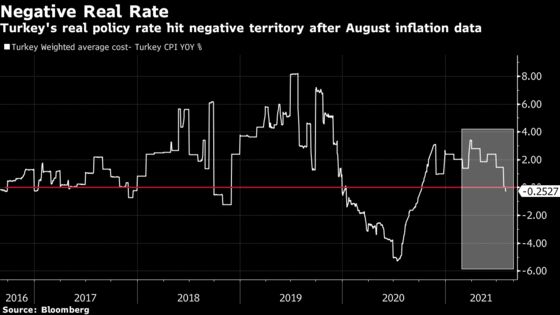 The president, whose ruling AK Party has for decades based its electoral success on rapid levels of economic growth, preaches the unorthodox doctrine that higher interests rates spur prices rather than contain them. When the economy sank during the pandemic, support for Erdogan and his party fell.    
The governor's shift outlined Wednesday aims to expand the "very tight room for maneuver to cut interest rates," said Piotr Matys, a senior currency analyst at InTouch Capital Markets Ltd. 
But, he cautioned, the monetary authority "doesn't have sufficiently strong credibility to control the narrative and to impose on the market its view that core inflation is more important than headline measure when setting monetary policy."
The lira dropped as much as 1.6% after the governor's speech and was trading 1.3% lower at 8.4631 per dollar at 12:27 p.m. in Istanbul. 
"Essentially, the market is sending Governor Kavcioglu a very strong signal that he could be making a costly policy mistake," Matys said.
The currency is down more than 14% since Kavcioglu's appointment in March.