Trump's Iran Sanctions Trigger a Booming Cash Smuggling Business
U.S. sanctions against Tehran have created the ultimate arbitrage play.
(Bloomberg) -- For traders in Afghanistan's main currency exchange, U.S. sanctions against Tehran have created the ultimate arbitrage play -- one that involves frequent trips to neighboring Iran with smuggled cash.
At the bustling, three-story Sarai Shahzada market in Kabul, one trader sitting in a booth piled high with grimy banknotes explained how he and others use taxis to bring suitcases full of U.S. currency into Iran through Afghanistan's remote Islam Qala border crossing. Each month he transfers about $220,000 in two or three trips, he said, speaking on condition his name not be used.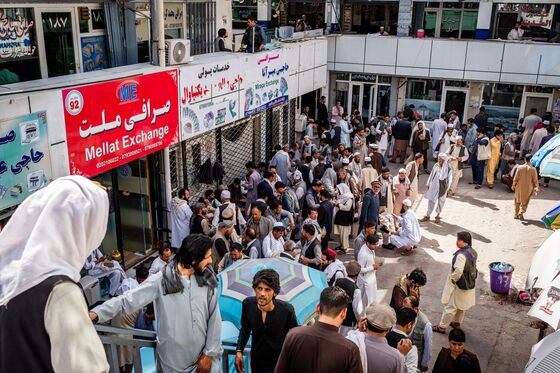 Traders generally travel from Afghanistan's Herat province to Iran's second-biggest city, Mashhad. They use U.S. dollars to buy rials from desperate Iranian sellers at black-market rates in excess of 120,000 rials to the dollar. These currency traders, who hold multiple-entry visas for Iran, then sell the rials in Afghanistan for a profit of as much as 30 percent, said Eimal Hashoor, a spokesman of Da Afghanistan Bank, the country's central bank.
Traders can get the best prices for rials in Afghan provinces that border Iran, rather than in Kabul, said a second trader. He also asked not to be identified talking about smuggling as he counted a stack of rials on his desk.
The trade is part of $4 billion in annual illicit outflows deepening the strain on Afghanistan's war-ravaged economy and undermining Iran's attempts to halt the decline of its battered rial. Despite official attempts to curb the activity, traders see no sign it will slow down: Afghanistan's government is preoccupied with battling the Taliban and Islamic State, while Iran is overextended dealing with U.S. President Donald Trump's fresh wave of sanctions.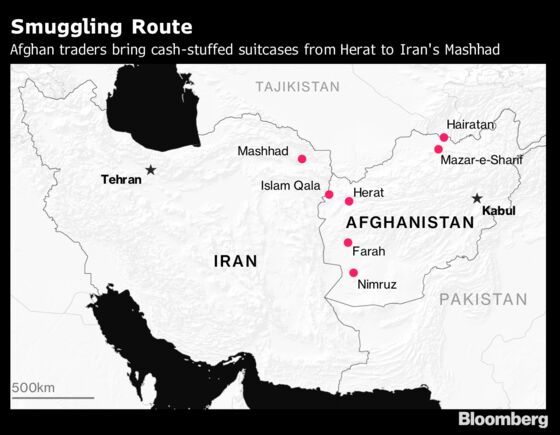 "Unfortunately, the government has failed to curb the smuggling," said Saifuddin Saihoon, an economics professor at Kabul University, who added that influential warlords are profiting from the practice.
The smuggling has led to a shortage of U.S. dollars in Afghanistan and contributed to the nation's currency falling 3.5 percent this month. The Afghani was at 76.03 to the U.S. dollar on Sept. 13, the lowest level in 15 years when Bloomberg started compiling data. The rial has sunk 60 percent since April.
U.S. sanctions came into effect on Aug. 7, preventing Tehran from purchasing greenbacks, trading in gold or precious metals, and selling or acquiring various industrial materials. Further curbs in November will target Iran's oil exports, the backbone of its economy.
Roughly $5 million in cash is estimated to cross the border into Iran every day, and that number has increased since the sanctions were imposed, according to Hashoor from Afghanistan's central bank. That's in addition to at least $7 million dollars siphoned out daily through other land borders and airports.
Iranian companies and consumers are desperate to purchase dollars, Hashoor said, amid fears the rial may drop further as Trump imposes more sanctions.
One trader said there were willing buyers for the rial -- including local currency dealers -- in Afghanistan's Nimruz and Farah provinces bordering Iran, where the rial is an accepted form of currency and Iranian wheat, flour and rice are sold in local markets. In areas of Afghanistan bordering Pakistan, the Pakistani rupee is also accepted.
"Traders sell dollars on the black markets for rials in Iran and they smuggle the rials back to Afghanistan to sell them at its official rates in provinces" where they're used for daily purchases, said Khan Jan Alokozay, the deputy chairman of the Afghanistan Chamber of Commerce and Industries.
Afghanistan central bank Governor Khalil Sediq detailed the extent of currency smuggling to the country's lawmakers in July, after he was summoned to explain the depreciation of the Afghani. He also said suitcases full of cash are leaving from Afghanistan's airports in Kabul and Mazar-e-Sharif, departing for Dubai and other cities.
The total value of illegal funds leaving Afghanistan is greater than legal outflows. Between June 2017 and June 2018, roughly $2.6 billion flowed out of Afghanistan, including cash for government purchases. That compares to more than $4 billion in illegal transactions, including currency smuggling, according to the central bank.
At the currency market, the traders who spoke to Bloomberg said they had official Iranian visas and used their network of personal contacts to ensure they weren't questioned or stopped by Afghan officials. One said business had risen more than 50 percent in the last couple of months.
Illegal cash transfers are a "concerning issue" and law enforcement agents have moved to "dismiss or replace responsible senior security officials at the borders and strengthen the intelligence and monitoring services there," said Nasrat Rahimi, a deputy spokesman for Afghanistan's Ministry of Interior Affairs.
An official at the Central Bank of Iran said currency smuggling across the Iran-Afghanistan border was a law enforcement matter. Iran's Taskforce to Fight Smuggling of Goods and Foreign Exchange didn't respond to requests for comment.
--With assistance from Golnar Motevalli, Arsalan Shahla and Ladane Nasseri.
To contact the reporter on this story: Eltaf Najafizada in Kabul at enajafizada1@bloomberg.net
To contact the editors responsible for this story: Ruth Pollard at rpollard2@bloomberg.net, Iain Marlow, Chris Kay