Treasury Report Tests Trump's Claim of China Currency Manipulation
(Bloomberg) -- The U.S. Treasury is poised to render a verdict on President Donald Trump's claim that China is manipulating its currency as a trade war between the two nations intensifies and rattles markets.
While the U.S. hasn't designated China as a currency manipulator since 1994, Wall Street is bracing for the prospect that the Treasury Department will do so this week in its semi-annual foreign-exchange report. Such a move wouldn't trigger penalties, but it would likely escalate tensions between the world's two largest economies.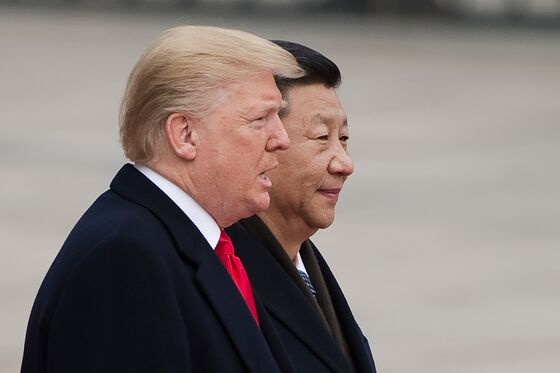 Treasury staff have recommended to Secretary Steven Mnuchin that China doesn't meet the criteria to be labeled a currency manipulator, according to two people familiar with the matter. The criteria established by Congress include: a minimum $20 billion trade surplus with the U.S.; a current account surplus in excess of 3 percent of GDP; and repeated interventions in currency markets.
Traders are watching several other Asian and European currencies that could be called out in the report. Here are five things to watch:
Trump has repeatedly said China keeps the yuan artificially weak, making its exports cheaper. The currency, also called the renminbi, has tumbled more than 9 percent against the dollar over the past six months. The U.S. is concerned about the depreciation, and wants to make sure it's not being used as a competitive devaluation, Mnuchin said in an interview in Bali Thursday.
The yuan's drop has been fueled at least in part by market forces from the trade dispute, according to Mark Sobel, a former U.S. Treasury official who worked at the department for nearly four decades.
"Trade tensions are contributing to the softening Chinese economy and a weaker currency," Sobel said. "When Trump threatens, or actually hits China with trade tariffs, the renminbi depreciates. As tensions rose, pressures on the renminbi intensified."
People's Bank of China Governor Yi Gang used the IMF meetings to say the government won't use its currency as a tool to deal with the trade conflict even as a tariff war with the U.S. intensifies.
Still, the White House is pressuring Mnuchin to publicly shame China, and Trump said in an interview with Bloomberg News last month that the U.S. is "looking very strongly at the formula" it uses to evaluate possible manipulation. Mnuchin has gotten more involved than usual in the currency analysis, people familiar with the matter have said.
2. More countries scrutinized
Treasury in April said it may expand the number of countries it examines. An expanded list could include Russia, Thailand, Indonesia, Vietnam, Ireland or Malaysia, all of which have large trade surpluses with the U.S.
Expanding the list would be a "clear signal of intent that the administration wants greater transparency on the currency policy of key trading partners," said Viraj Patel, a currency strategist at ING Groep NV in London. "Implicitly it also signals the intent to avoid 'too strong' a dollar in the medium-term and this is a subtle but important shift in dollar policy that shouldn't be taken lightly."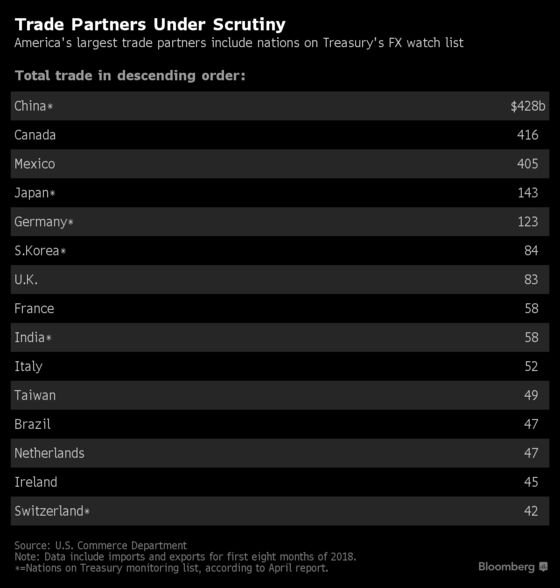 India was unexpectedly added to Treasury's currency watch list in April for its significant trade surplus with the U.S. and increased purchases of foreign currency last year. This year it's been doing the opposite, with the Reserve Bank of India spending over $26 billion trying to shore up the rupee, Asia's worst performing major currency in 2018.
One criterion for being labeled a currency manipulator is a trade surplus with the U.S. of $20 billion or more. India's was at $22.9 billion in 2017.
If Thailand is added to Treasury's twice-yearly review, analysts widely agree that it could be branded a currency manipulator because it meets all three criteria set by Congress.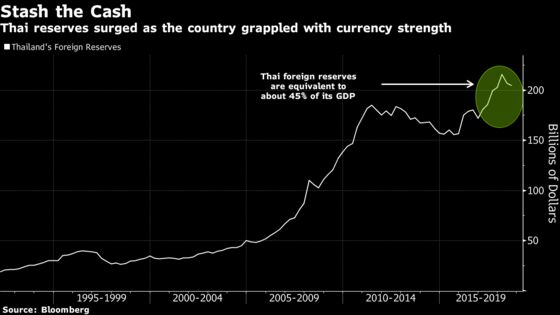 Trump has criticized European Union countries for "manipulating their currencies and interest rates lower." Germany, which has been on Treasury's monitoring list since April 2016, has faced the toughest criticism from Trump and the Treasury over its large current account surplus.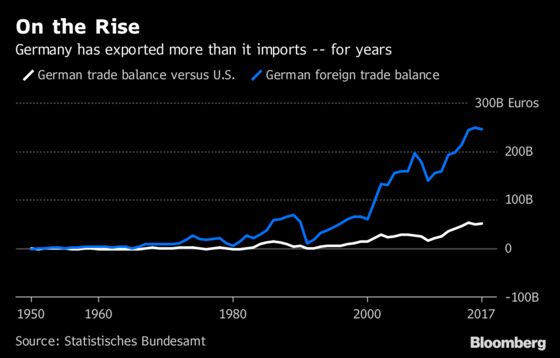 --With assistance from James Mayger, Anirban Nag, Sunil Jagtiani, Randall Woods and Piotr Skolimowski.
To contact the reporter on this story: Saleha Mohsin in Washington at smohsin2@bloomberg.net
To contact the editors responsible for this story: Alex Wayne at awayne3@bloomberg.net, Joshua Gallu, Malcolm Scott