Tariffs Hurt Everyone, and More Emerging Truths
Everyone loses when the world's two largest economies slap tariffs on each other.
As negotiators from the U.S. and China prepare for a new round of trade talks in Shanghai this week, it's a good time for an economic reality check heading into the meetings that begin Tuesday: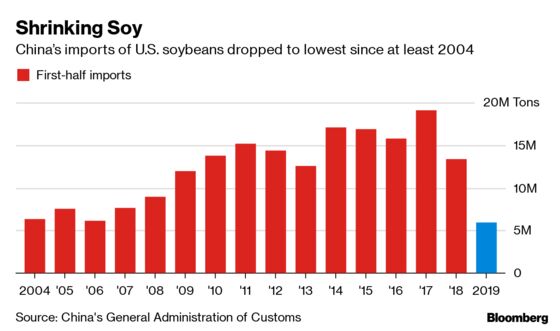 U.S. soybean supplies to China slumped in the first half of 2019 to the lowest level in more than a decade as little progress was made on ending a trade war between the two countries.
China primer | It's hard to see the U.S. rolling back existing tariffs on China, given the prospects for a deal.
Brexit fallout | Moving to WTO tariffs for food products from Europe would raise the cost of U.K. imports.
July 30-31: U.S.-China trade talks in Shanghai
Aug. 1: South Korean exports
To contact the editor responsible for this story: Brendan Murray at brmurray@bloomberg.net, Zoe Schneeweiss