India Tariffs Show Modi's Protectionist U-Turn
Indian Prime Minister Narendra Modi has championed free trade in global forums over the years, but his record back home appears to be one of rising protectionism. 
India has increased import import tariffs over the last two years to curb cheap goods from abroad and support small- and medium-sized local manufacturers. In November, Modi pulled India out of the world's biggest regional trade deal. And earlier this month, his government proposed in its budget to change rules that will allow it to ban the import of any goods it deems harmful to domestic industries.
His government also raised import levies on medical equipment, footwear and furniture in the budget, and said it will strengthen rules to allow for additional levies to be imposed when imports of some goods surge significantly. 
The measures appear like political double-speak, coming from Modi, who in his January 2018 keynote speech at the World Economic Forum in Davos, lamented the rising trend of protectionism and called on fellow leaders to embrace more open trade. 
What's pushing him to change course? The economy's sharp downturn since last year and domestic industries under pressure is boosting the case for Modi to strengthen barriers. Unemployment is at a 45-year high and growth is set for its weakest performance in more than a decade in the current fiscal year.
Long-time watchers of the World Trade Organization also highlight that India has always had an awkward relationship with free trade thanks to its domestic politics and has been viewed by the rest of the world as one of the more troublesome members of the Geneva-based institution. 
Modi first announced curbs on non-essential imports in 2018 to rein in the current account deficit and halt a rout in the rupee at a time when investors were dumping emerging-market assets.
That same year his government also announced tit-for-tat tariffs on some U.S. goods after President Donald Trump slapped additional levies on steel and aluminum from India. Ironically, Modi's now trying to clinch a trade deal with the U.S. when Trump visits New Delhi next week, though the U.S. president on Tuesday cast doubts over the likelihood of a pact being agreed.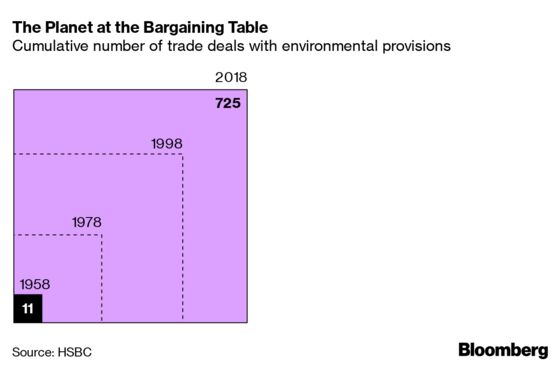 Environmental provisions are increasingly featuring in trade negotiations. Freer trade can bolster economic growth and development, allowing governments room to focus on environmental issues, according to an analysis by HSBC. Market access can also boost trade in environmental goods and services, which could play a role in lifting environmental standards globally, the HSBC analysis suggests. One way to incorporate Mother Earth in trade deals could be a carbon tax on certain imports.
China spillover | South Korea's export-oriented economy is highly reliant on China and weakened demand is already putting a damper on exporters. Supply chain disruptions due to idling Chinese factories further complicate the picture.
Japan trouble | A steeper-than-expected drop in Japanese imports may reflect weaker domestic demand — another indication the economy could be headed for a technical recession.
Feb. 21: South Korea 20-day exports and imports
Feb. 25: CPB World Trade Monitor 
Britain's departure from the EU on Jan. 31 marked the start of a new and, if anything, more complex phase of the negotiations. Click here for a timeline to the year ahead.
To contact the editor responsible for this story: Brendan Murray at brmurray@bloomberg.net, Karthikeyan SundaramZoe SchneeweissRichard Bravo