Italy's Warm Embrace of China Cools as Virus Tests Trade Ties
Italy's Warm Embrace of China Cools as Virus Tests Trade Ties
Last year Italy's government — then run by a populist coalition — thumbed its nose at fellow Group of Seven industrial powers when it signed on to President Xi Jinping's Belt and Road Initiative.
"Today is a day in which Made in Italy, Italy, Italian companies win," Luigi Di Maio — deputy premier at the time — said in March 2019, after a signing ceremony with Xi.
Now under a new leadership team, Rome is still waiting for tangible economic benefits from its China outreach.
The Italian government installed in September was always likely to be more skeptical of China than the previous administration, but that stance has been compounded by disappointing sales and investment figures showing a growing trade deficit with China.
Preliminary statistics suggest that Italian exports to China actually declined last year, while Chinese investments in Italy have underwhelmed in all but the controversial area of 5G. An Italian parliament committee has since recommended that the government block Huawei and other Chinese providers from its fifth-generation networks.
Adding to the tensions between Rome and Beijing, Italy is now the epicenter in Europe of the fight against coronavirus that first emerged in China. To contain the outbreak, Italy on Jan. 31 suspended flights to and from mainland China, Hong Kong, Macau and Taiwan. The ban until April 28, the first by a European Union member, was blasted by China, which said it is "strongly dissatisfied with the overreaction and restrictions of the Italian side."
Such strains may get worse, with opposition leader Matteo Salvini threatening a less accommodating approach to China if he engineers a return to government. For now, Di Maio, who remained in government but switched to be foreign minister, acknowledges a need to revisit Italy's memorandum with China.
Turbulence related to the virus will likely blow over once the epidemic eases. But Italy's realization of what it's like to deal with China is probably here to stay.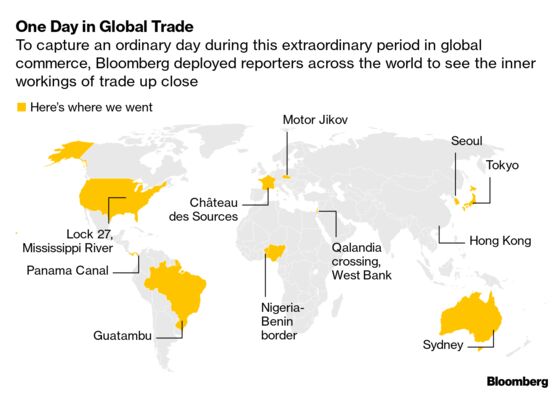 Viewed from a desk on Wall Street, trade can look like an inaccessible agglomeration of breathless headlines about escalating economic wars and sterile data. Yet up close, the buying and selling of goods and services is an astonishing organism: Here, geopolitical decisions and the markets' responses to them have daily physical consequences. Bloomberg deployed reporters across the world to see the inner workings of trade.
U.K. outlook | Whatever Brexit deal the U.K. ends up with, productivity remains the big challenge.
Facing headwinds | Maersk's exposure to Asia dims prospects for world's biggest container shipping company.
Feb. 28: U.S. advance goods trade balance, Mexico trade balance
March 1: South Korea trade balance
March 6: Canadian merchandise trade
March 7: China trade balance
To contact the editor responsible for this story: Brendan Murray at brmurray@bloomberg.net, Zoe Schneeweiss