Truth Versus Spin in Trump's Trade Deal Celebrations
Truth Versus Spin in Trump's Trade Deal Celebrations
President Donald Trump heads to Capitol Hill tonight to deliver his annual State of the Union address. And, yes, trade is likely to feature in his speech. So here are six things — some might call them trade truths — to keep in mind:
If Trump hails his new USMCA and declares something like the "Nafta nightmare is over," remember that USMCA's primary economic credential is that it extends the life of the trading bloc created by Nafta in the 1990s. There are some significant updates. But the most different thing about it is its name. This is above all an updating and rebranding exercise.
When Trump hails his "phase one" deal with China and the $200 billion Chinese spending spree it includes, it's worth a reminder that most experts — and commodity markets — don't believe that Beijing will ever deliver on that sum, especially now that the coronavirus crisis has hit the country. Be wary of splurge inflation — Trump in the past has quoted a purchase figure as high as $300 billion.
Trump may declare that he has concluded all sorts of other deals that have been triumphs. That's not wrong, per se. It does ignore, though, that all of those cut so far have been either incomplete and coming in phases (China and Japan) or updates of existing agreements (USMCA and South Korea). Each of those also included substantial elements lifted from agreements he has decried like the Trans-Pacific Partnership he pulled the U.S. out of in 2017. His deal with Japan, for example, essentially delivers the agricultural market opening that the Obama administration negotiated as part of the TPP. 
None of his deals could be described as "the biggest ever" as he has in the past. That title goes to 1994's Marrakech Agreement, which was signed by 123 countries and created the World Trade Organization. 
The U.S. is extremely unlikely to sign a deal with the U.K. this year, even after Brexit finally became reality on Friday. Trump — as he has before — may declare the he is going to rapidly wrap up a deal with Boris Johnson's government. But there's not even an agreement on how to begin discussions. Britain hasn't yet laid out its goals for a deal, something Washington did a year ago. Trade negotiations take time. The USMCA, an update of an existing accord, took more than a year.
Trump's tariffs continue to be a drag on the U.S. economy and despite what he says, American importers bear most of their cost. The non-partisan Congressional Budget Office last month said it expected the tariffs that remain in place on $370 billion in goods from China and steel and aluminum, washing machines and solar panels from round the world to lop 0.5% off U.S. economic growth this year. Businesses and economists also blame Trump's trade wars for leading to an increase in uncertainty that contributed to a contraction in private investment in three consecutive quarters last year. 
Of course, there may be trade surprises in the president's speech tonight. (Whatever happened to those auto tariffs?) But with an election in November, Trump's overwhelming priority is selling his economic record and his trade accomplishments. And not all of those are what he says they are.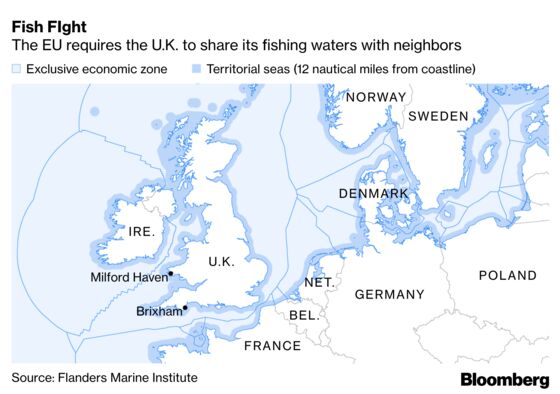 As the European Union and U.K. gear up to negotiate a landmark trade deal, fish and financial services may become bargaining chips. Britain wants to take back control of waters that France, the Netherlands and other EU nations are keen to go on fishing. Brussels may gain leverage here as a result of the U.K.'s desire for access to the European banking market. 
Shell game | Crab meat, brass faucets are among the items the U.S. exempted from 25% China tariffs.
Global tax talks | More unilateral taxes are likely if OECD talks fail on digital taxes, a German official says.
Feb. 5: U.S. trade balance
Feb. 7: German trade balance
--With assistance from Samuel Dodge.
To contact the editor responsible for this story: Brendan Murray at brmurray@bloomberg.net, Zoe Schneeweiss
Get Your
Daily Newsletter
Get market moving news, top news & compelling perspectives
---