Stocks Rally on Trade Optimism; Curve Flattens
Trade Truce Brings Relief as Aussie, Yuan Gain: Markets Wrap
(Bloomberg) -- Stocks rallied after the U.S. and China declared a truce in their trade war, while the dollar weakened and oil gained. A portion of the U.S. yield curve inverted for the first time in more than a decade.
The benchmark S&P 500 Index jumped more than 1 percent, building on gains posted during the biggest weekly increase in almost seven years, after leaders of the two countries agreed to hold off on new tariffs and intensify trade talks. European and Asian shares closed higher. The difference between three- and five-year Treasury yields dropped below zero, in what could be the first signal that the market is putting the Federal Reserve on notice that the end of its tightening cycle is approaching.
Major movers in U.S. stocks:

Exxon Mobil, Halliburton and Kinder Morgan led a rise in energy shares, the best performing section in the S&P 500  
PepsiCo and Coca-Cola helped weigh down consumer staples 
"The very positive reaction from stock means that for the time being, investors have put behind them the concern that the tariff war might escalate," said Donald Selkin, chief market strategist at Newbridge Securities. "On the other hand, there are issues out there which could cause a cooling off of the current optimism."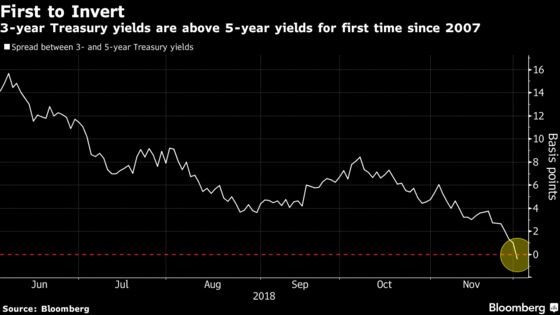 Oil was jolted higher by efforts across the globe to support prices as Saudi Arabia and Russia extended their pact to manage the market and Canada's largest producing province ordered unprecedented supply cuts. Optimism was dented slightly after Qatar said it was leaving OPEC, just as the group prepares to meet this week.
The truce between President Donald Trump and President Xi Jinping at the Group of 20 summit in Argentina has gone some way in calming investor fears over the state of global growth after a tumultuous period for risk assets. The U.S. had been scheduled to push ahead on Jan. 1 with increased tariffs on $200 billion worth of Chinese goods. Going forward, investors will assess the prospects for an end-of-year equity rally, while oil traders will continue to focus on any OPEC-related headlines to gauge the likely scale of production cuts.
"It's easy to see the trade deal as a half empty -- that it's just a postponement and that they'll work together but that there really isn't any kind of resolution," said Jeff Kleintop, chief global investment strategist at Schwab Center for Financial Research. "But I think you can see it as a half glass full. "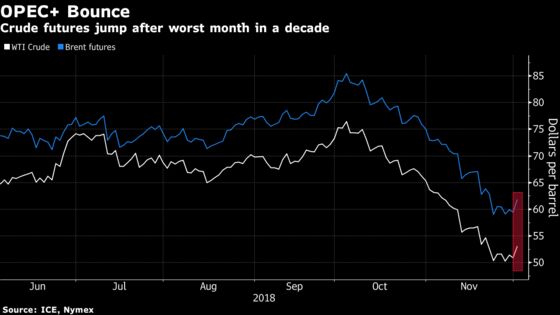 Elsewhere, the pound erased a gain as the threat of a vote to bring down British Prime Minister Theresa May's government looms should Parliament reject her Brexit deal. That raises the stakes even further as lawmakers begin debating her plan this week. China's yuan climbed with emerging market assets. Gold and copper rallied, as did most other commodities.
Terminal subscribers can read our Markets Live blog.
U.S. financial markets are set to close Wednesday for a national day of mourning to honor former President George H.W. Bush.
Federal Reserve Chairman Jerome Powell's testimony to Congress scheduled for Wednesday has been canceled.
China November trade data is due on Saturday.
These are the main moves in markets:
The S&P 500 gained 1.1 percent to 2,790.36 as of 4:02 p.m. in New York, while the Dow Jones Industrial Average increased 1.1 percent to 25,826.43 and the Nasdaq Composite Index rose 1.5 percent to 7,441.51.
The Stoxx Europe 600 rose 1 percent.
The U.K.'s FTSE 100 rallied 1.2 percent.
Germany's DAX Index gained 1.9 percent.
The MSCI Emerging Market Index climbed 2.2 percent.
The MSCI Asia Pacific Index increased 2 percent.
The Bloomberg Dollar Spot Index fell 0.2 percent.
The euro gained 0.2 percent to $1.1342.
The British pound weakened less than 0.1 percent to $1.2723.
The Japanese yen weakened less than 0.1 percent to 113.65 per dollar.
The yield on benchmark 10-year Treasuries fell less than one basis point to 2.98 percent. The three-year note yield increased four basis points to 2.84 percent as the yield on the five-year note rose two basis points to 2.83 percent.
Germany's 10-year yield fell less than one basis point to 0.31 percent.
West Texas Intermediate crude jumped 4.4 percent to $53.19 a barrel.
Gold rose. 0.7 percent at $1,230.62 an ounce, after reaching the highest in a month.
LME copper climbed 1.6 percent to $6,295 per metric ton, after reaching the highest in almost 10 weeks on the biggest increase in a month.
--With assistance from Katherine Greifeld.
To contact the reporters on this story: Sarah Ponczek in New York at sponczek2@bloomberg.net;Vildana Hajric in New York at vhajric1@bloomberg.net
To contact the editors responsible for this story: Jeremy Herron at jherron8@bloomberg.net, Dave Liedtka