Taiwan Posts Fastest Growth Since 2010 on Export-Fueled Boom
Taiwan's economy likely grew the fastest in 10 years in the first quarter of this year.
(Bloomberg) -- Discover what's driving the global economy and what it means for policy makers, businesses, investors and you with The New Economy Daily. Sign up here
Taiwan's economy grew the fastest in more than 10 years in the first quarter as companies scrambled to build new production lines in an effort to keep up with an insatiable overseas appetite for computer chips and other electronic goods.
Gross domestic product expanded 8.16% in the first three months of the year from the same period in 2020, a government report showed Friday. That was much faster than economists or the government forecast.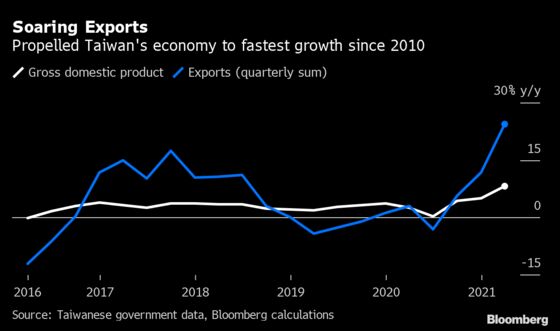 Global demand for semiconductors and other electronic components has fueled a surge in exports with overseas shipments rising to a record $35.9 billion in March. A government index of forward-looking data such as exports, industrial production and money supply indicates the economy is currently at its strongest since 1989 and is officially in boom territory.
The knock-on effect of the voracious overseas demand is a renewed momentum in local investment and domestic demand, which emerged as additional strong drivers of growth in the first quarter, according to Wu Pei-hsuan, senior executive officer of the Cabinet's statistic department.
"When we forecast capital formation in February, we took into consideration that investment in the semiconductor industry in the first quarter of last year reached a new high, so we initially thought there's no way it could exceed it this year," Wu said at a briefing Friday. "But in the end, investment in the first quarter of this year exceeded our expectations by a long way."
Wu pointed to greater-than-expected investments in the memory, packaging and petrochemical sectors as well as chip-making.
The performance of Taiwan's economy is still mainly fueled by its "near global monopoly" on semiconductor manufacturing, according to DBS Group Holdings Ltd. economist Ma Tieying.
"The strength of these exports is helping investment," she said in a telephone interview. "In terms of post-Covid recoveries, Taiwan is the first Asian economy to have emerged from the pandemic."
Ma also said that if it can maintain its current trajectory and the U.S. and Europe successfully reopen their economies, Taiwan's full-year GDP growth could be between 6% and 7%, which would be the fastest pace since it expanded 10.3% in 2010.
Taiwan's export surge may continue even as the pandemic subsides in developed nations, with the U.S. government's drive to shift supply chains away from China likely to benefit the island economy. GDP will expand at least 3% in each of the next five years, according to Rick Lo, chief economist at Fubon Financial Holding Co. in Taipei.
"It's not just in the technology industry where Taiwan has a clear advantage over its peers," he said earlier this week. "The ability of Taiwan's small- and medium-sized enterprises to change course quickly is better than Japanese and Korean companies, allowing them to find new opportunities to break into the global supply chain in all kinds of industries."