Syria Tightens Import Curbs to Save Scarce Dollars for Wheat
(Bloomberg) -- Syria blocked imports of items ranging from cheddar cheese to cashew nuts and mobile phones as the war-torn country seeks to save its dwindling foreign currency reserves for purchases of wheat.
The central bank on Monday requested that the Ministry of Economy and Foreign Trade carry out a six-month suspension, state news agency SANA reported. The list of 20 items includes metal pipes and ceramics.
The government is struggling to fund imports a decade into a civil war that's devastated the economy and drawn in powers from the U.S. to Russia and Turkey. While restrictions on purchases of hard currency have been in place for years, outright bans on foreign goods are rare.
GLOBAL INSIGHT: Hungry and Angry -- Scoring Food Price Risks
The value of the Syrian pound has tanked as dollar shortages have worsened. It now trades at roughly 3,300 against the dollar, down from its pre-war value of 50.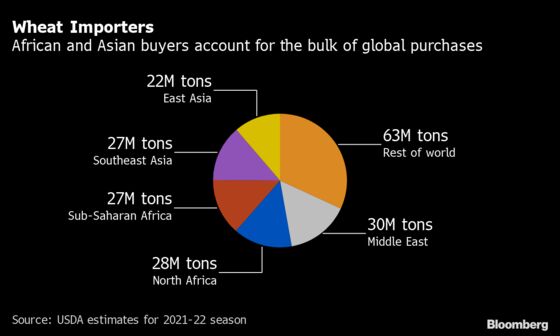 The latest curbs also highlight the strain of rising crop prices on global buyers, especially in poorer, import-dependent nations. Wheat has rocketed in recent months after bad weather hit production from Canada to Russia. This poses a particular challenge for the Middle East and North Africa, the largest importing regions.
Syria's local wheat crop also suffered this season, with the U.S. Department of Agriculture estimating that output fell to a three-year low.