Switzerland's Economic Recovery Seen Coming to a Sudden Halt
Switzerland's recovery is at risk of an abrupt end as the pandemic resurges in the U.S. and China and supply-chain issues disrupt the export-reliant economy.
A sentiment index by Credit Suisse plunged by almost 51 points in August to -7.8. The only times the gauge has fallen so sharply were after the Swiss franc shock of 2015 -- when the central bank unexpectedly scrapped its currency cap -- and at the start of the pandemic in 2020.
In neighboring Germany, supply bottlenecks are also proving an issue, and were behind a drop in business confidence in a survey published Wednesday.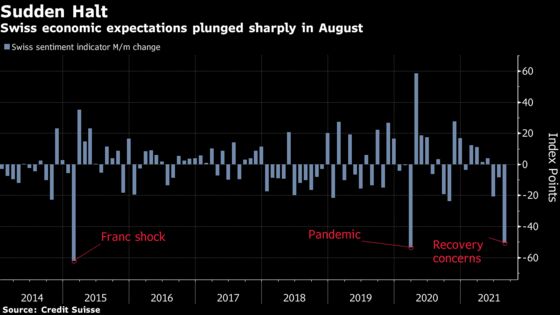 Switzerland's economy saw a relatively strong rebound in the second quarter as coronavirus restrictions started to be phased out and global demand started to recover. While the upswing had to come to an end sooner or later, the report suggests that could now be "more sudden and more pronounced."
"The main reason is likely to be the resurgence of the pandemic in the U.S. and China, which will probably exacerbate -- due to the closure of transportation and production facilities -- what is already a strained situation in the supply chain," said Claude Maurer, chief economist for Switzerland at Credit Suisse.