Swiss Economy Unexpectedly Contracts, Hit by Foreign Trade
Swiss Economy Unexpectedly Contracts, Hit by Foreign Trade
(Bloomberg) -- The Swiss economy unexpectedly shrank in the third quarter, blighted by a drop in exports and weak domestic demand.
No economists surveyed by Bloomberg had forecast the contraction of 0.2 percent -- the median prediction was for an expansion of 0.4 percent. The economy grew 2.4 percent from a year earlier.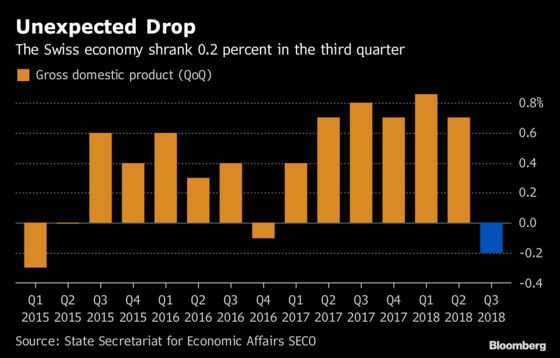 "The strong, continuous growth phase enjoyed by the Swiss economy for one and a half years was suddenly interrupted," State Secretariat for Economic Affairs SECO said in a statement. "Switzerland is thus following the significant economic downturn seen at the same time in other European countries, particularly Germany."
| Components | 2Q 2018 | 3Q 2018 |
| --- | --- | --- |
| Household consumption | 0.2 | 0.1 |
| Government consumption | 0.2 | -0.1 |
| Equipment & software investment | 0.5 | -2.0 |
| Exports of goods excl. valuables | -0.3 | -4.2 |
| Imports of goods excl. valuables | -1.1 | -2.4 |
| Gross domestic product | 0.7 | -0.2 |
The Swiss National Bank's most recent forecast, in September, was for growth of between 2.5 percent and 3 percent this year. Yet recent forward-looking indicators have suggested momentum is due to slow down.

Switzerland's export-oriented machine, electrical and metals industry expects order growth to level off, citing signs of a slowdown in major economies.

The SNB National Bank remains focused on the franc's strength and is showing no sign of moving away from negative interest rates or its intervention threats. Governing Board Andrea Maechler affirmed the position earlier this month.
In Germany, output shrank in the third quarter for the first time since 2015 as the automobile industry was hit by new emissions testing. While that dragged down the whole euro zone, the question is whether the slowdown is temporary or more serious.
--With assistance from Harumi Ichikura and Marco Babic.
To contact the reporter on this story: Catherine Bosley in Zurich at cbosley1@bloomberg.net
To contact the editors responsible for this story: Fergal O'Brien at fobrien@bloomberg.net, Paul Gordon