Stocks Sink as Apple, Facebook Pace the Tech Wreck: Markets Wrap
Catch all the updates from global equity, currency and commodity markets. 
(Bloomberg) -- Weakness in some of the biggest technology companies sent U.S. stocks tumbling Monday as pessimism about escalating trade tensions between the Trump Administration and China added to concerns about potential new regulations coming for the industry. The dollar steadied and Treasuries crept higher for a fifth straight session.
All major American benchmarks were down more than 1.5 percent. Software developers and semiconductor manufacturers were the worst performing groups in the S&P 500 Index. The Nasdaq 100 Index plunged more than 3 percent to the lowest since April on renewed concern that trade fights will tamp down global demand and disrupt supply chains for the major technology companies that have carried the bull market for almost 10 years. In addition, the biggest drop in homebuilder sentiment in more than four years hammered the housing sector.
"The easiest way to stop the selloff would be for Trump and [Chinese President] Xi to reach some kind of agreement, even if it's just no new tariffs and/or keeping the rate at 10 percent through Jan. 1," said Max Gokhman, head of asset allocation for Pacific Life Fund Advisors. "The U.S. equity market is starting to price in the supply chain disruption, which is doubly painful because of stretched margins."
Here are some of the key moves:
Apple Inc. sank following reports that it had cut production orders for the three iPhone models it unveiled in September.
Facebook Inc. dropped as its public image remains under pressure. Snap Inc. and Twitter Inc. tumbled too as social media shares were broadly punished.
Nvidia Corp.'s two-day plunge reached nearly 28 percent after its disappointing earnings, as chipmaker shares remained in a tailspin.
Salesforce.com fell 9 percent, the most since February 2016.
The SPDR S&P Homebuilders ETF reversed an earlier gain to trade lower following the housing sentiment report.
"You're seeing weakness in semiconductors because of Nvidia's weak earnings that were released last week," said Ryan Nauman, market strategist at Informa Financial Intelligence. "Facebook is having some more issues with potentially covering up the Russia hack in the 2016 election. Apple, they're getting downgraded based on demand. A lot of companies and analysts are concerned that the demand for the iPhone has decreased. The trade concern isn't helping Apple much either with the supply chain."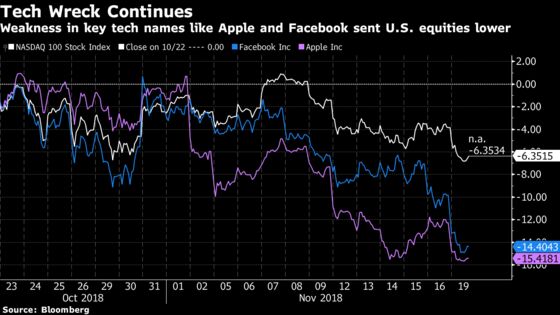 Investors are reassessing markets after several weeks of volatility spurred by fears of trade conflicts. The Asia-Pacific Economic Cooperation failed to agree on a joint statement for the first time in its history, and U.S. Vice President Mike Pence attacked China at a weekend summit, quashing optimism that relations would improve at Group-of-20 meetings starting next week. In addition, rising U.S. interest rates are pushing up financing costs and threatening global growth.
"Any margin for safety with global growth rates is gone," said Tim Courtney, chief investment officer of Exencial Wealth Advisors in Oklahoma City. "Now we're going into a period of slow growth. We're in no-man's land -- sitting, stuck in a slow growing, slow inflationary environment."
In Europe, the Stoxx 600 Index fell following a plunge in Renault SA on misconduct allegations against the carmaker's leader, Carlos Ghosn. European bonds mostly edged lower. The pound fluctuated as U.K. Prime Minister Theresa May appealed to business leaders to help deliver her Brexit deal, and Gibraltar emerged as a fresh sticking point.
Elsewhere, the Australian and New Zealand currencies slipped after Pence's remarks. Bitcoin fell below $5,000 for the first time since October 2017. Crude closed in on $57 a barrel as energy stocks rebounded.
Terminal customers can read our Markets Live blog.
Bank of England Governor Mark Carney appears before parliament on Tuesday.
It's a shortened trading week because of the Thanksgiving holiday in the U.S. on Thursday. In addition, Black Friday, the day after Thanksgiving, marks the traditional start to the U.S. holiday shopping season.
These are the main moves in markets:
The S&P 500 sank 1.7 percent to 2,690.73, while the Nasdaq 100 plunged 3.3 percent.
The Stoxx Europe 600 Index dipped 0.3 percent.
The U.K.'s FTSE 100 Index gained 0.1 percent.
The MSCI All-Country World Index dropped 1 percent.
The Bloomberg Dollar Spot Index was little changed.
The euro climbed 0.3 percent to $1.1451.
The British pound added 0.1 percent to $1.285.
The Japanese yen rose 0.3 percent to 112.54 per dollar.
The yield on 10-year Treasuries declined 1 basis point to 3.0537 percent.
Britain's 10-year yield decreased three basis point to 1.378 percent.
Germany's 10-year yield jumped one basis point to 0.373 percent.
Commodities

The Bloomberg Commodity Index gained 1.1 percent.
West Texas Intermediate crude climbed 0.5 percent to $56.76 a barrel.
Natural gas rose 7 percent to $4.583 per mmbtu.
Gold was little changed at $1,223.43.
--With assistance from Andreea Papuc and Todd White.
To contact the reporters on this story: Vildana Hajric in New York at vhajric1@bloomberg.net;Sarah Ponczek in New York at sponczek2@bloomberg.net
To contact the editors responsible for this story: Jeremy Herron at jherron8@bloomberg.net, Eric J. Weiner
©2018 Bloomberg L.P.
Get Your
Daily Newsletter
Get market moving news, top news & compelling perspectives
---