SNB Says Franc Is Highly Valued as Omicron Clouds Outlook
The Swiss National Bank kept interest rates at a record low and stuck to its description of the franc as "highly valued" after the currency's latest advance against the euro. 
Both the deposit and the policy rate were held at -0.75% on Thursday as widely predicted by economists. With the global economic recovery on shaky footing due to the omicron coronavirus variant, President Thomas Jordan and fellow policy makers also reiterated their pledge to supplement subzero rates with currency interventions as needed.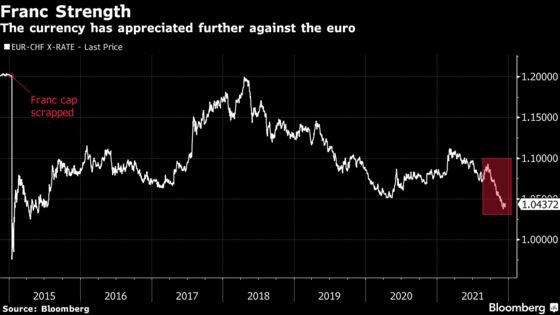 The franc has appreciated steadily against the euro since mid September, breaking through a key level of 1.04 this month. The gain -- the currency is near the strongest since 2015 -- prompted suggestions the SNB could drop its long-standing "highly valued" label and toughen its language. 
But Jordan said the real trade-weighted exchange rate has "hardly changed since the beginning of the pandemic," so the SNB didn't need to change its assessment. 
He also noted the currency has helped the country escape the inflation spike seen in the euro area and the U.S.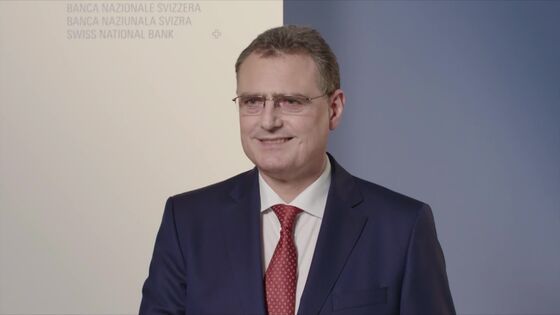 "We have been able to prevent a stronger rise in inflation in Switzerland by allowing a certain amount of nominal appreciation," he said. That has "countered rising prices in that it makes imports cheaper."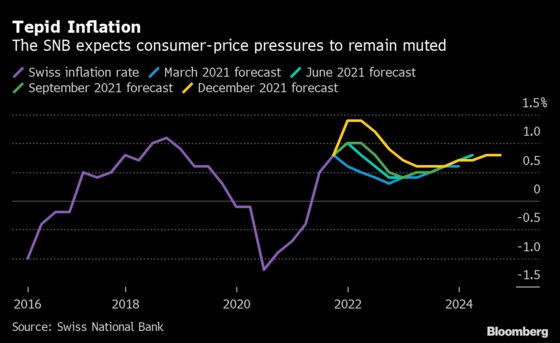 In its latest assessment, the SNB sees consumer-price growth at just 1% next year and 0.6% in 2023. The currency was little changed after the decision, at 1.04382 per euro at 10 a.m. Zurich time.
The relatively sanguine stance stands in contrast to that of the U.S. Federal Reserve. On Wednesday, it intensified its fight against inflation, speeding up a bond-buying taper and signaling a faster pace of rate hikes.
The SNB sees the economy expanding around 3% next year. But the government is trying to stop yet another surge in coronavirus infections and is discussing new restrictions. 
"The recent worsening of the pandemic situation has again increased the uncertainty with regard to the forecasts, both for Switzerland and abroad," the SNB said. "Economic developments over the coming quarters will hinge on which additional containment measures are taken in the countries affected."