Seychelles Tests Samples to Try Get to Grips With Virus Surge
Seychelles, World's Most Vaccinated Nation, Says Covid Cases Easing
(Bloomberg) -- Seychelles will send samples taken from people who contracted Covid-19 for analysis in Kenya to understand why infections increased despite it having vaccinated a greater proportion of its population against the disease than any other nation.
Almost one in 10 people on the palm-fringed Indian Ocean archipelago has tested positive for the coronavirus and while the rate of new cases is slowing, it has shown a surge in recent weeks. A third of the 2,739 people with active Covid-19 infections had received two doses of either Sinopharm or AstraZeneca Plc vaccines, and the increase in the caseload has raised questions about their efficacy.
"We already collected the samples and by the end of this week, they will be sent to the Kenya Medical Research Institute for testing," Jude Gedeon, Seychelles' public health commissioner, told reporters in Victoria, the capital, on Thursday.
The country had raced to vaccinate its population of just under 100,000 so it could reopen to the tourists who are the lifeblood of its economy. Gross domestic product contracted 13% last year because of the collapse in global travel due to the pandemic.
Of the 62% of the islands' inhabitants who have been inoculated, 57% received the Sinopharm shot and the rest Covishield, which is made in India under license from AstraZeneca. The health ministry didn't break down which vaccine those who were infected had taken, but said most cases were mild.
While Sinopharm's vaccine is seen as less effective than some alternatives, a small trial in South Africa showed that AstraZeneca's shot didn't work well against a highly infectious variant first identified in that country. That variant has now been found in the Seychelles but it's unclear how widespread it is.
Despite the case surge, inoculations have cut the number of infections and the severity of disease, Gedeon said.
"With the numbers we are registering, we see that the vaccinations worked out," he said.
The seven-day rolling average of infections has fallen to 178 from 322 about a week ago, the health ministry showed in slides presented at the news conference on Thursday. Of the current active cases, 85% are Seychellois and the rest are foreigners, the ministry said.
Intermingling of families have been banned and sports events canceled.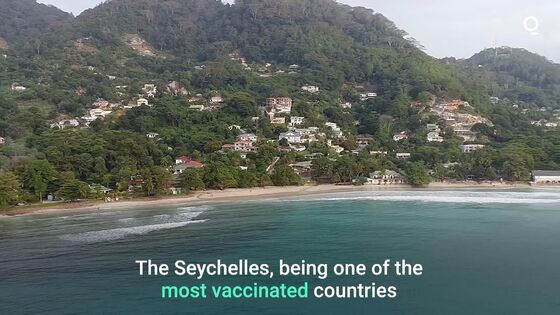 The Maldives, another Indian Ocean island nation, also has a fast-growing Covid-19 epidemic, with infections more than doubling over the past seven days, according to data compiled by Bloomberg. Maldives has imposed a 4 p.m. to 4 a.m. curfew in its capital, Male, and has banned tourist visas for people from south Asia.