Serbs to Hold Key Rate Despite Inflation Surge: Decision Guide
Serbs to Hold Key Rate Despite Inflation Surge: Decision Guide
Serbia will probably keep borrowing costs at a record low in the central bank's first interest-rate decision this year, marking a contrast with a raft of hikes across the region as inflation in check. 
Policy makers will hold the one-week rate at 1%, according to all 12 economists surveyed by Bloomberg, even after headline price growth advanced in December to 7.9%, the highest since July 2013. Annual inflation breached the central bank's tolerance band in September and may not retreat back into range before mid-2022, the National Bank of Serbia said on Wednesday.
The first in Europe to cut rates when the pandemic hit the continent in 2020, officials in Belgrade have opted to avoid swings in the benchmark. They've pointed to "low and stable" underlying core inflation and say they've deployed alternative tools to tighten monetary conditions.
The central bank ended repo securities auctions in October that were used to supply liquidity to banks and the rate at weekly reverse-repo tenders has risen. But the reluctance to lift the key rate has made the largest former Yugoslav republic an outlier in eastern Europe as Hungary, Romania, Poland and the Czech Republic have increased borrowing costs.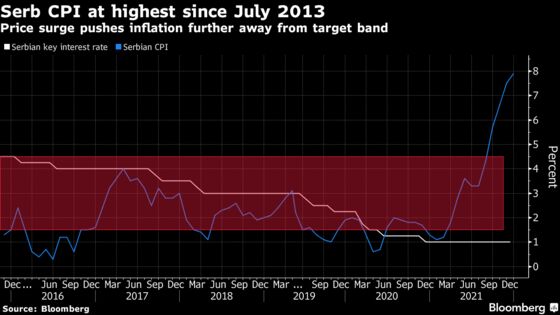 Serbia's monthly inflation slowed in December for the first time since July, to 0.4%, after the government intervened by temporarily capping prices of some staple foods. 
"With core inflation picking up, and in a context of significant monetary tightening in the region, we have now penciled in an increase of the policy rate to 2% in 2022, in addition to a further tightening of liquidity conditions," according to UniCredit economist Mauro Giorgio Marrano. Inflation is likely to remain above 7% in the first half, he said.