Serb Rates Seen on Hold as Currency in Play: Decision Day Guide
(Bloomberg) -- Explore what's moving the global economy in the new season of the Stephanomics podcast. Subscribe via Apple Podcast, Spotify or Pocket Cast.
Serbia will probably hold off on cutting interest rates further, favoring caution to avoid undermining a currency that it has protected from weakening by stepping up market interventions.
As a dozen other central banks around the globe hold their last meetings of 2019, Serbia's is struggling to keep below-target inflation from slowing further, with little room to cut record-low borrowing costs.
After staging three surprise easing moves this year, policy makers are expected to keep the benchmark rate unchanged at 2.25% on Thursday. Only one of 24 analysts predicting a quarter-point reduction.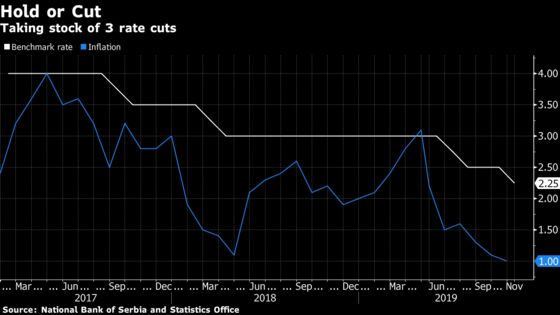 The meeting follows data showing economic growth accelerated to 4.8% from a year earlier in the third quarter in a benefit to President Aleksandar Vucic's administration before general elections next spring.
The government has also promised to lift average wages to 500 euros ($554) a month, a pledge that partly depends on keeping the dinar from weakening too much. To that end, the central bank, run by Vucic ally Jorgovanka Tabakovic, broke from its trend from most of this year of selling dinars to combat appreciation pressure by selling euros in six consecutive sessions in November to cap losses against the single currency.
The bank's strategy of keeping tight control over the exchange rate drew a rare critique from the International Monetary Fund, whose resident representative in Serbia said greater dinar flexibility would help spread the use of the currency and that "the problem is when stability comes from heavy interventions of the central bank."
After an unexpected cut in November, rate setters now need time before pushing borrowing costs even lower, according to Ljiljana Grubic, an analyst at Raiffeisenbank in Belgrade.
"Even though low inflation would still justify some easing, this week is full of decisions of major global central banks and the market expects them to pause easing," said Jakub Kratky, an analyst at Generali Investments in Prague. "Also, some EM central banks signaled that room for further easing is limited."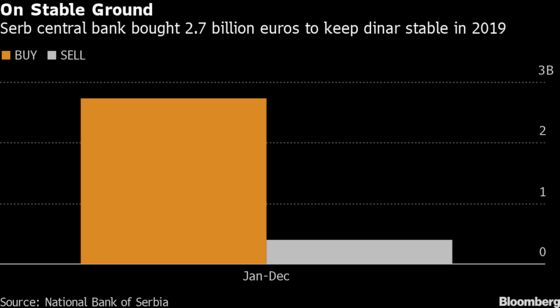 Additional rate cuts are likely in 2020 as low inflation has allowed the central bank "to sync its monetary policy cycle to that of the ECB," analysts from Erste Group Research said in a note.
To contact the reporter on this story: Gordana Filipovic in Belgrade at gfilipovic@bloomberg.net
To contact the editors responsible for this story: Andrea Dudik at adudik@bloomberg.net, Michael Winfrey