Russian Economy Shrank by Quarter in April, Early Data Show
Russia Economy Contracted by a Quarter in April, Early Data Show
(Bloomberg) -- Russia's overall output shrunk by a quarter last month as the pandemic lockdown limited economic activity and slashed incomes, according to Bloomberg Economics estimates based on Finance Ministry data.
"With lockdown effects lingering through May, the decline in GDP in the second quarter is likely to be deeper than during the global financial crisis," said Scott Johnson, an analyst at Bloomberg Economics.
The government data on spending and revenues in April were the first to reveal the scale of damage to the economy. The ministry doesn't release a monthly GDP figure, but the number can be calculated from the budget aggregates it reports as a percentage of economic activity.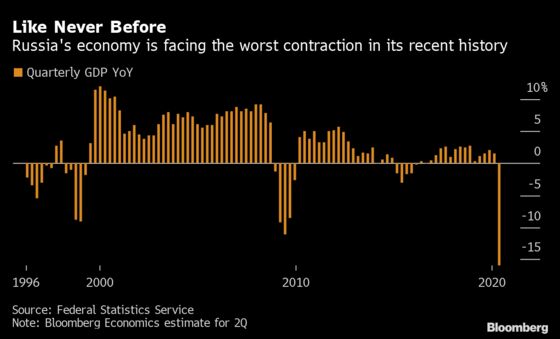 President Vladimir Putin ended Russia's stay-at-home regime last week in an attempt to limit the economic impact. But Moscow and some other major cities plan to remain in lockdown for several more weeks at least.
The economy will contract 16% in the second quarter, according to Bloomberg Economics. That would be the worst quarterly performance since at least the early 1990s.
Car sales dropped 72%, making last month "black April," according to the Association of European Businesses. A manufacturing indicator slumped to the lowest level since records began in 1997, IHS Markit reported at end of last month.
The contraction has dashed the government's earlier hopes for an economic pickup this year. First-quarter output rose 1.6% from a year ago, the Federal Statistics Service reported Tuesday. That's below the median estimate of 1.8% in a Bloomberg survey of 15 economists. The service doesn't give monthly figures.