Russia's Credit Risk Surges as Putin's Demands Renew Default Fears
The cost of insuring Russian debt surged after Putin demanded ruble payments from "unfriendly" nations for gas purchases.
(Bloomberg) -- The cost of insuring Russian debt surged on Thursday after President Vladimir Putin demanded ruble payments from "unfriendly" nations for gas purchases.
Credit-default swaps protecting $10 million of the government's bonds for five years were quoted at about $6.4 million upfront and $100,000 annually, according to ICE Data Services. That implies an 87% probability of default, compared with about 60% at the end of last week.
Swaps prices soared after Putin's announcement renewed investor concerns about the stability of Russian supplies and its ability to service foreign debt amid its war in Ukraine. Russia's insistence on ruble payments could trigger disputes and contract negotiations, threatening to disrupt the smooth flow of Russia's gas, on which Europe is heavily dependent.
"The CDS is spiking to indicate that there's uncertainty on whether the new law on ruble payments for gas may be accepted," said Persella Ioannides, a portfolio manager for money manager MeritKapital, which operates in emerging markets.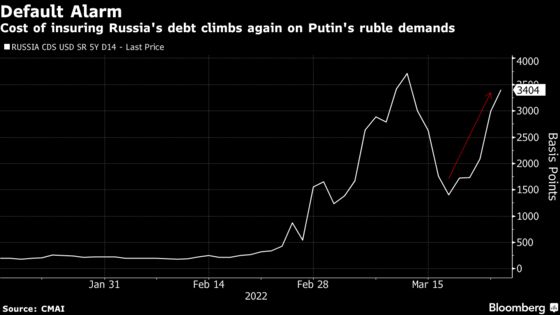 One-year contracts rose to $5.8 million upfront, indicating a 74% probability of default. Swaps prices had eased last week after Moscow avoided its first foreign-currency default in more than a century by making $117 million of interest payments in dollars. 
Russia's National Settlement Depository said on Tuesday that it processed a $66 million coupon payment for another Eurobond, showing that it's still able -- and willing -- to cover its foreign debts despite the sweeping sanctions that have cut the country off from much of the world financial system and its own rules about paying international creditors in rubles. 
But the Russian president's demands for gas payment in its local currency have revived concerns about his willingness to use energy as a weapon in its war, along with expectations of a near-term default.
"If the U.S. and Europe cut off Russia's gas, a default is a very clear scenario," said Alberto Gallo, a fixed income portfolio manager at Algebris, who has been net short on Russia since January.