China Bonds See Worst Rout in a Year on Inflation Data
(Bloomberg) -- China's benchmark sovereign bond yield jumped the most in a year, as quickening inflation sowed doubts about whether the nation's notes can maintain their world-beating advance.
The 10-year government bond yield climbed as much as six basis points to 2.87% on Monday, its biggest rise since July 2020, after eight straight weeks of declines. That's after China's July factory-gate inflation unexpectedly returned to a 13-year high of 9% touched in May. A rise in short-term interbank rates also weighed on government debt.
The surge in inflation is fueling concern that price pressures in the world's second-largest economy may not be transient. Rising inflation may also complicate potential easing measures from the People's Bank of China and slow the rally in bonds that's partly fueled by expectations of liquidity support from policy makers to boost the slowing economy.
"We can't rule out a large correction in Chinese bonds in the short run," following its rapid ascent recently, said Ming Ming, head of fixed-income research at Citic Securities Co. "The window for the central bank to ease the monetary policy will soon be closed."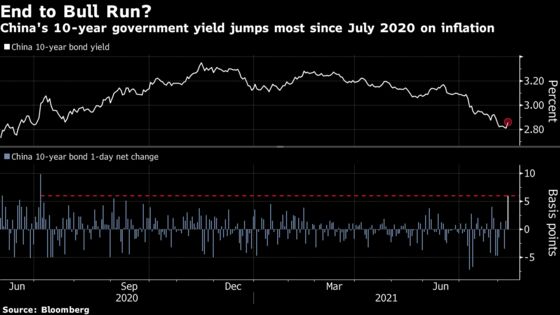 China's bonds are still the only gainers this year in the Bloomberg Barclays Global Treasuries benchmark index. That's because the rally -- initially sparked by a surprise cut in banks' reserve ratio requirement last month -- has extended after worries over regulatory crackdowns spurred haven bids. A resurgence of Covid cases and signs of weaker activities in the manufacturing sector prompted traders to price in further easing, including a potential interest-rate cut.
Analysts from JPMorgan Chase & Co., HSBC Holdings Plc and BofA Securities have recommend bullish expressions in Chinese government bonds.
Further policy cues are expected to emerge from the PBOC's move when 700 billion yuan ($108 billion) of medium-term policy loans mature on Monday. If the central bank withdraws cash from the banking system, it would signal concern over inflation but a reduction of the interest rate on the loans would be seen as a dovish move.
The overnight repurchase rate -- a gauge of short-term interbank borrowing costs -- surged 36 basis points to 2.24%, the highest level in nearly two weeks ahead of the maturity of the policy loans next week.
"The risk of the spread of delta variant in China cannot be underestimated," said Winson Phoon, head of fixed-income research at Maybank Kim Eng Securities Pte in Singapore before the inflation data release. "Higher PPI is unlikely to derail the prevailing constructive sentiment in China's government bonds, although that market might need cooler heads before pricing in additional easing by the PBOC."
Below are the key Asian data and event due this week:
Tuesday, August 10: Australia business and consumer confidence, Philippine 2Q GDP
Wednesday, August 11: Singapore 2Q GDP
Thursday, August 12: New Zealand 3Q 2-year inflation expectations, Philippine central bank policy decision; India CPI, industrial production
Friday, August 13: Malaysia 2Q GDP and BoP current account balance