Australia Drops Yield Target, Joins Global Policy Unwinding
(Bloomberg) -- The Reserve Bank of Australia bowed to market pressure Tuesday, abandoning a bond-yield target after an acceleration in inflation spurred traders to price in higher borrowing costs.
The decision to scrap the 0.1% yield target on the April 2024 security comes after a bond market selloff last week and amid an improving domestic outlook underpinned by high vaccination rates. The RBA kept its cash rate at a record low 0.1%, as expected. 
"Given that other market interest rates have moved in response to the increased likelihood of higher inflation and lower unemployment, the effectiveness of the yield target in holding down the general structure of interest rates in Australia has diminished," Governor Philip Lowe said in a post-meeting statement. 
The currency was on track for its biggest one-day loss since September as Lowe added that it was still "likely to take some time" for inflation to sustainably return to its target. Short-end sovereign bonds also erased losses as the RBA damped bets for aggressive tightening.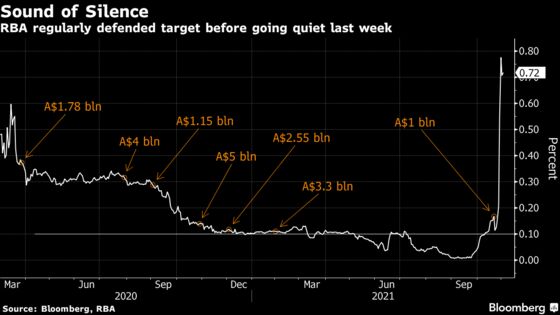 Australia is now caught up in the global inflation debate that's seen bond markets press policy makers worldwide to act promptly to counter rising price pressures. Data last Wednesday showed Australia's core consumer prices jumped back inside the RBA's 2-3% target for the first time in six years, sending yields surging. 
"The statement is very much in-line with the RBA still saying it's going to be patient on raising interest rates," Diana Mousina, senior economist at AMP Capital Investors Ltd., said on Bloomberg Television. "It's clearly a sign to the markets. It thinks the market has gone too far in pricing rate hikes."
While it is possible that rates may not increase until 2024, it is now also plausible that it might be appropriate to lift the cash rate in 2023, Lowe said in opening remarks to a webinar after the policy meeting. 
"There is genuine uncertainty as to the timing of future adjustments in the cash rate," he added.
Interbank cash rate futures are starting to digest the idea that an end to the yield target doesn't signal early rate increases. The yield on the August 2022 future fell 7 basis points to 0.49%, continuing its retreat after jumping to 0.67% last week.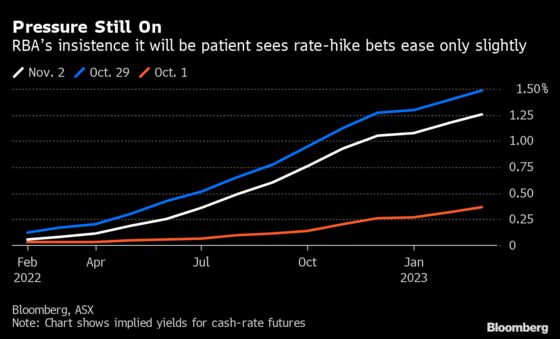 The tenor of the governor's comments remained dovish as he pointed out the high degree of inertia in the labor market that meant it would take time to get wages growth moving higher. That, he said, suggests inflation is unlikely to get out of hand.
Yields on three-year debt dropped six basis points to 0.95%, giving up gains of as much as seven basis points. Ten-year yields fell to 1.89%, having risen as high as 1.99% earlier.
The central bank's policy shift was underpinned by revisions to its economic forecasts, with the detailed suite of numbers to be released Friday in its quarterly Statement on Monetary Policy.
Today's statement showed the following outlook:
Downgraded 2021 GDP growth to 3%, while upgrading 2022 to 5.5%
Upgraded underlying inflation to around 2.25% this year and next and 2.5% -- the midpoint of the RBA target -- in 2023
Kept forecast unemployment unchanged 4.25% at end-2022 and 4% at end-2023
The RBA's decision to scrap the yield target comes after its Canadian counterpart last week ended its bond-buying stimulus and just before the Federal Reserve is expected to announce a pullback of its debt purchases. The Bank of England also faces inflationary forces that have markets anticipating a hike at Thursday's meeting or the one just before Christmas.
The RBA will probably lag its developed-market peers in tightening policy, giving little upside to the Aussie dollar, said Eugenia Victorino, head of Asia strategy in Singapore at Skandinaviska Enskilda Banken AB.