Putin Is Back to Building Financial Fortress as Reserves Grow
Putin Is Back to Building Financial Fortress as Reserves Grow
Surging oil and gas revenues have pushed Russia's wealth fund to record levels, but President Vladimir Putin wants to save the extra cash for a rainy day.
After approving $35 billion in infrastructure projects from the fund this year, Putin has told the government to limit further spending. Officials close to the process say there aren't many more well-prepared ventures left in the pipeline anyway. 
"Being frugal with oil revenues is a huge positive for Russia's attractiveness for foreign portfolio investors," said Elina Ribakova, deputy chief economist at the International Institute of Finance in Washington. "Not everything can be controlled from the center, even with the best of intentions. We've seen investment projects mismanaged for decades."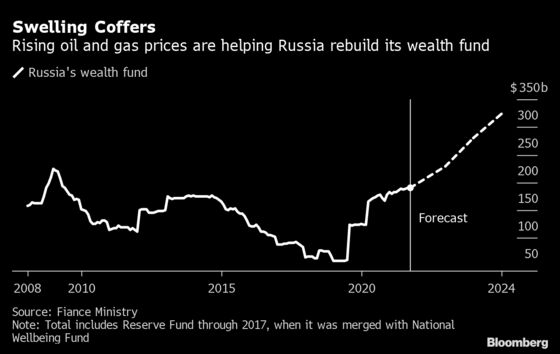 Putin called the low incomes of millions of Russians "the main enemy" earlier this week. Still, he has stuck to his longstanding focus on limiting debt and rebuilding reserves quickly after boosting spending last year amid the Covid-19 pandemic. He proposed only modest increases in welfare spending, even as the government is likely to receive about $40 billion in extra oil-and-gas revenue this year, according to Fitch Ratings.
"The general line suggests a return to pre-Covid-19 structures running a nearly balanced budget that prioritizes savings to buffers over investments with a moderate borrowing plan," Sova Capital economist Artem Zaigrin wrote in a note.
For the wealth fund, that means Putin wants to raise the threshold at which the government can begin spending from it on infrastructure projects to 10% of GDP from the current 7%. Fed with revenue from oil and gas, the fund isn't expected to reach the higher threshold until the end of next year. 
The government predicts the fund will break $300 billion in 2024, up from $190.5 billion now. The Finance Ministry says the extra money is needed "to reduce long-term budget and macroeconomic risks that might arise from the energy transition," a reference to the possibility that a shift away from oil and gas and toward low-carbon energy sources in major consumer markets could deal a major blow to Russia's finances.
"The government is scared to spend more of the oil revenues because prices sometimes rise but they also fall," said Oleg Vyugin, a former senior central bank official. "The untouchable part of the wealth fund is being increased in case of economic and political problems."