Powell's 'Just Below' Comment Seen as Suggesting Fewer Hikes
Federal Reserve Chairman Jerome Powell said he and other policy makers continue to see a "solid" outlook for the U.S. economy.
29 Nov 2018, 4:54 AM IST
(Bloomberg) -- Federal Reserve Chairman Jerome Powell said interest rates are "just below" a range of estimates of the so-called neutral level, softening previous comments that seemed to suggest a greater distance and spurring speculation that central bankers are increasingly open to pausing their series of hikes next year.
Wall Street embraced the news with a rally for Treasuries and the biggest surge in major U.S. stock indexes since March. Powell's "just-below" description tempered remarks last month that markets read as a signal of more aggressive monetary policy tightening. Speaking on Oct. 3, he said that "we may go past neutral. But we're a long way from neutral at this point, probably."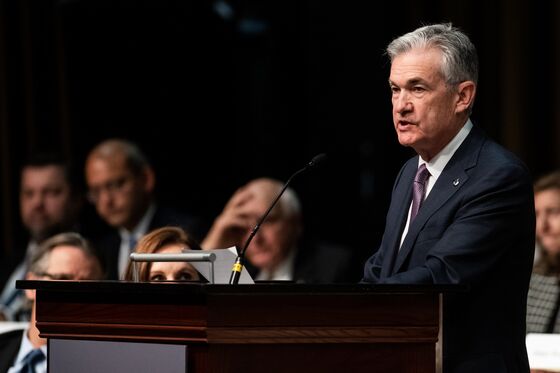 In his speech Wednesday to the Economic Club of New York, Powell said the Fed's benchmark interest rate was "just below the broad range of estimates of the level that would be neutral for the economy -- that is, neither speeding up nor slowing down growth."
The S&P 500 rose 2.3 percent in New York to the highest close in more than two weeks, while the Dow Jones Industrial Average advanced more than 600 points. The rise in Treasuries pushed down the yield on two-year notes as low as 2.79 percent, from 2.84 percent before Powell's speech. The Bloomberg Dollar Spot index was down 0.6 percent after rising earlier in the day.
If rates are closer to what policy makers ultimately judge is the neutral level, that could signal the Fed will act less than previously projected. Eurodollar futures pricing reacted to Powell's comments, reflecting even firmer expectations that the Fed will hike only once next year.
Powell's remarks on the economy and monetary policy were seen as keeping the Fed on track to raise its benchmark in December from the current 2 percent to 2.25 percent range. They offered few explicit clues, however, as to how many hikes he thinks will be necessary in 2019. Powell repeated his view that the Fed will have to be especially responsive to incoming economic data.
"We also know that the economic effects of our gradual rate increases are uncertain, and may take a year or more to be fully realized," he said. "While FOMC participants' projections are based on our best assessments of the outlook, there is no preset policy path," Powell said, referring to the central bank's Federal Open Market Committee, which sets interest rates.
Even before the speech, investors had grown skeptical that Fed officials will reach their own median projection for three hikes in 2019 against a backdrop of slowing growth and uncertainty over the U.S.'s ongoing trade dispute with China.
"As always, our decisions on monetary policy will be designed to keep the economy on track in light of the changing outlook for jobs and inflation," Powell said.
Economists are divided beyond December. Those at Goldman Sachs Group Inc. and JPMorgan Chase & Co. predict four hikes next year, while their counterparts at Morgan Stanley and Citigroup Inc. forecast two. Bloomberg Economics anticipates three increases.
The Fed still sees the economic outlook as relatively strong. "My FOMC colleagues and I, as well as many private-sector economists, are forecasting continued solid growth, low unemployment, and inflation near 2 percent," Powell said in the speech.
On the same day the Fed released its first-ever semi-annual Financial Stability Report, Powell highlighted some concern over corporate debt levels, pointing especially to highly-leveraged borrowers who may "surely face distress if the economy turned down." Still, he judged the area posed little systemic risk, labeling broader, overall risks to financial stability as "moderate."
"Such losses are unlikely to pose a threat to the safety and soundness of the institutions at the core of the system," he said.
Powell spoke a day after President Donald Trump renewed his criticism of the Fed's recent policy by telling the Washington Post that he wasn't "even a little bit happy with my selection of Jay."
The chairman has repeatedly said he won't be swayed by political pressure and will stay focused on the Fed's dual mandate. Neither of the two questioners of Powell at Wednesday's event asked him for his views on the president's complaints.
--With assistance from Sarah McGregor.
To contact the reporters on this story: Christopher Condon in Washington at ccondon4@bloomberg.net;Rich Miller in Washington at rmiller28@bloomberg.net;Jeanna Smialek in New York at jsmialek1@bloomberg.net
To contact the editors responsible for this story: Brendan Murray at brmurray@bloomberg.net, Scott Lanman, Sarah McGregor
Get Your
Daily Newsletter
Get market moving news, top news & compelling perspectives
---