Powell Opens Door to Possible Pullback in Fed Rate-Hike Outlook
Economists are divided about what the Fed will do beyond December.
30 Nov 2018, 3:52 AM IST
(Bloomberg) -- Federal Reserve Chairman Jerome Powell opened the door for a potential pullback in projected interest-rate hikes for 2019 following a widely expected increase in December.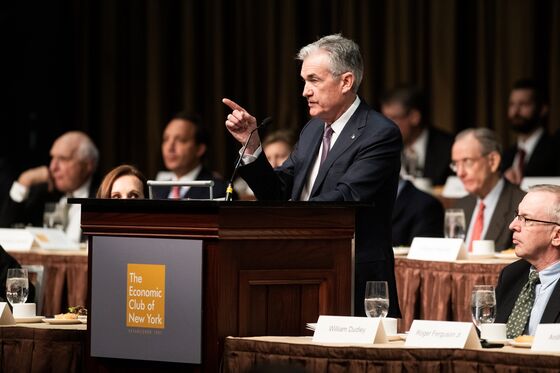 In what was seen as a shift in tone from remarks last month, Powell said Wednesday that the Fed's series of rate increases had brought policy to "just below" the range of estimates of neutral, where it neither spurs nor restricts the economy. He also noted that the economy had yet to feel the full impact of the hikes.
Powell's comments sparked a surge in a stock market that had struggled of late and came in the wake of repeated criticism of the Fed's rate increases by President Donald Trump.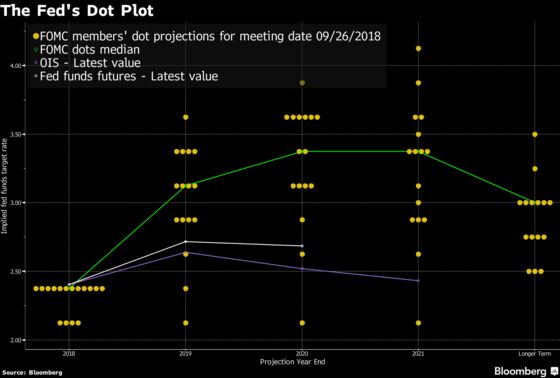 Policy makers provisionally penciled in three quarter-percentage-point rate increases for next year, according to the median of forecasts released in September's so-called dot plot. That could fall to two when officials update those forecasts at their Dec. 18-19 meeting, Wrightson ICAP LLC chief economist Lou Crandall said.
"You're no longer on a forced march to neutrality,'' he said. "As you get closer you tack a little bit more.''
The S&P 500 Index rose the most since March, while yields on two-year Treasuries fell 2 basis points, as traders dialed back their expectations for interest-rate hikes. Futures showed the amount of tightening priced in for 2019 slipped to 25 basis points -- equivalent to just a single rate hike. Commodity-producing and emerging countries led gains among currencies as traders bet the greenback may be close to its peak.
Next month's expected quarter-point increase would lift the central bank's target for the federal funds rate to a range of 2.25 percent to 2.5 percent. That would bring it about to the bottom of the September range of neutral-rate estimates from 15 governors and regional Fed presidents, who gave figures from 2.5 percent to 3.5 percent.
Powell remains upbeat on the economy, forecasting continued solid growth, low unemployment and inflation near the Fed's 2 percent target. "There is a great deal to like about this outlook,'' he said in a speech to the Economic Club of New York.
But he cautioned that things could turn out a lot differently than the Fed expects. "There is no preset policy path,'' the Fed chief said.
Powell, in remarks just two weeks ago, had listed three possible challenges to growth in 2019: slowing demand abroad, fading fiscal stimulus at home and the lagged economic impact of the Fed's past rate increases.
Economists are divided about what the Fed will do beyond December. Those at Goldman Sachs Group Inc. and JPMorgan Chase & Co. predict four hikes next year, while their counterparts at Morgan Stanley and Citigroup Inc. forecast two. Bloomberg Economics anticipates three increases.
What Our Economists Say...
Fed policy makers appear to have decided to strike a somewhat more cautious tone as of late. Bloomberg Economics does not take it as a signal of the Fed dialing back on the number of expected rate hikes, but rather as an intent to be more flexible in setting policy as they approach the neutral rate.

Recent public comments suggest Fed officials are amenable to parking the fed funds rate near neutral, which most FOMC participants estimate near 2.9 percent to 3 percent, and then pausing to assess the health of the economy as it adapts to less accommodative policy.

-- Yelena Shulyatyeva, Tim Mahedy and Carl Riccadonna, Bloomberg Economics
Stephen Stanley, chief economist at Amherst Pierpont Securities LLC, told clients that he thought the markets overreacted to "the somewhat more dovish tone'' of the Fed chairman's speech. Ian Shepherdson of Pantheon Macroeconomics wrote that he didn't see Powell as "signaling any impending change" in policy makers' dots.
Powell unnerved investors on Oct. 3 when he said in an unscripted comment that Fed policy probably was "a long way from neutral'' and might eventually have to turn restrictive.
While numerous Fed watchers saw the remarks as nothing new, many investors heard it as a signal that the central bank was far from finished raising interest rates. And they dumped stocks in response.
It was a "rookie mistake,'' Omair Sharif, senior U.S. economist at Societe Generale, said Wednesday in a note to clients. Powell, who took over as Fed chairman in February, has said he wants to provide the public with "plain English'' descriptions of what the central bank is up to.
"What a difference having a written and carefully vetted speech makes with respect to speaking freely and without a script,'' Roberto Perli, a former Fed economist and partner at Cornerstone Macro LLC in Washington, told clients on Wednesday.
The speech was "a reassuring message from a market perspective because it removes concerns of a Fed dead set on tightening up to a point where rates would intentionally slow down the economy," he added.
To contact the reporters on this story: Rich Miller in Washington at rmiller28@bloomberg.net;Christopher Condon in Washington at ccondon4@bloomberg.net;Jeanna Smialek in New York at jsmialek1@bloomberg.net
To contact the editors responsible for this story: Brendan Murray at brmurray@bloomberg.net, Scott Lanman
Get Your
Daily Newsletter
Get market moving news, top news & compelling perspectives
---