Sixteen Ex-Bankers Unlikely to Sway Poland Into Hiking Rates Now
Sixteen former Polish central bank officials wrote an open letter urging an immediate interest-rate hike to curb inflation, a plea that's bound to fall on deaf ears with Governor Adam Glapinski.
Published a day before the Monetary Policy Council's monthly meeting, the call from former National Bank of Poland bosses Marek Belka, Leszek Balcerowicz and Hanna Gronkiewicz-Waltz, as well as 13 previous members of the MPC, included a stern warning: Further delays in tightening could undermine the policy makers' price stability goal and breach of the constitution.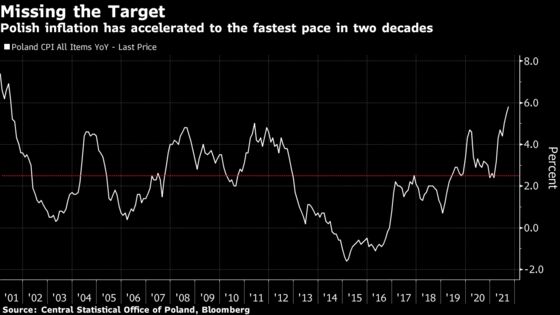 Glapinski has dismissed the surge in prices as a transitory worldwide phenomenon that's beyond the control of policy makers. Yet his dovish stance is increasingly isolated as regional peers in the Czech Republic and Hungary have raised rates for months and major central banks, including the Federal Reserve, are starting to consider tightening.
Glapinski signaled he would like to keep the benchmark rate at a record low of 0.1% at least until early next year, although minutes of from the MPC's September meeting revealed that new central bank forecasts due out next month may already sway the 10-member panel into action.
"The letter could backfire," said Piotr Matys, a senior currency analyst at InTouch Capital Markets. "Instead of urging the MPC to act on Oct. 6, the market will most likely have to wait until November -- which is the base case of when gradual normalization of monetary policy may commence."
The group of former policy makers behind the letter includes people who are or have been in the opposition to the ruling party, which voted Glapinski into his post. Still, it underscores a sense of urgency about rising prices in a country that suffered hyperinflation in the early 1990s, when authorities implemented a market-based economic model after communism collapsed. 
The risk is that inflation, already at a two-decade high of 5.8%, will continue to spiral away from the central bank's 2.5% medium-term target. 
"The higher inflation is allowed to move, the more costly it's going to become and harder to curb," they wrote in the letter published in the Rzeczpospolita newspaper Tuesday. A "further delay" in rate increases "would be a contravention of the central bank's primary mandate."
While none of the 29 economists surveyed by Bloomberg predict that the MPC will raise rates this week, traders are betting on almost half a percentage point in tightening over the next three months.