Rome's Pandemic Recovery Sparks a Fight Between Cafes and Cars
Spurred by climate change and frustration with traffic-clogged streets, Rome was already rethinking its approach to transport.
(Bloomberg) -- As Rome seeks to restart its economy from the coronavirus pandemic, authorities have inadvertently ignited a fierce battle for the city's streets — or to be more precise, its curbs.
With indoor seating still restricted by measures to contain Covid-19, Rome's administration in April allowed cafes and restaurants to set up outdoor seating in public areas for free. In practice, that's meant occupying cramped parking space on the city streets, infuriating drivers in the process.
"I have to block dozens of posts every time a new terrace goes up," said Valerio Ercolino, who manages a Facebook group for residents of the Trieste Salario neighborhood. "I try to keep the conversation constructive, but there is no synthesis. The anger just keeps building up."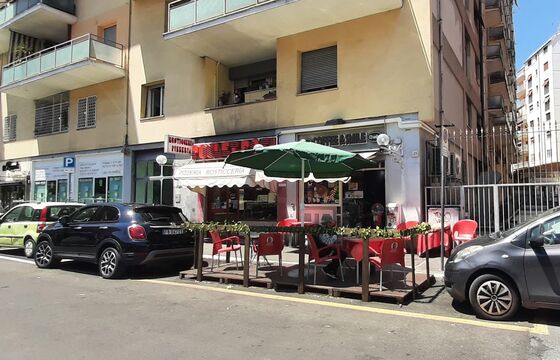 Spurred by climate change and frustration with traffic-clogged streets, Rome was already rethinking its approach to transport by rolling out more bike lanes and charging points for electric vehicles. With elections looming in the fall, the dispute pitting cafe owners against car drivers could become another catalyst for change.
Rome has one of the highest motorization rates in Europe, with some 62 cars per 100 residents. Many in the city drive even for short distances, causing so much gridlock that residents are stuck in traffic for more than 20 days a year on average, according to a Italian economic research company Nomisma.
The glut of cars translates to curbside chaos. Double and triple parking is the norm, even on narrow side streets. So every space "stolen" by cafes irks a multitude of drivers.
But restaurant owners like Camillo Sanchez, who opened the Tierra Organic Bistrot with his brother Andres just months before the pandemic hit the city, says the angry reaction is isolated.
"Our clients are all locals, and they've been very supportive," said Sanchez. "Some have complained, but most say that it makes the street more beautiful and liveable, that it improves the ecosystem of our area."
The 32-year-old and his brother are among Rome's 10,000 restaurant and bars owners who have been granted a no-cost permit to occupy public space until the end of the year. Requests have dramatically increased in the last few weeks, risking further tension in the city.
The draw is obvious. Italy was Europe's original epicenter of the coronavirus, and residents had to endure some of the continent's harshest lockdowns, making dining of any kind a treat. Eating indoors in restaurants was again allowed as of early June, but only in small numbers. Masks remain compulsory even outdoors, despite rapidly falling infection rates.
The new rules are a boon for Rome's hard-hit restaurant owners. Before Covid, cafes in the city center had to pay more than 14,000 euros ($17,000) a year to set up a terrace of 50 square meters, roughly enough space for seating 30 guests. 
Advocates for expanded outdoor dining argue that the measure is necessary for the industry to recover. The Italian catering and hospitality sector lost 514,000 jobs last year and most restaurants and bars suffered a plunge in sales of more than 50%, according to a May report by the country's bar and restaurant association FIPE.
"At this time, the rights of businesspeople and entrepreneurs willing to work in a sector that employs so many people in this city is worth more than the rights of drivers to park their cars," Andrea Coia, city councilor for economic development, tourism and labor, said in a phone interview. "So we have asked citizens to be patient, to understand that the city's needs have changed."
Those adjustments could be extended, as Romans consider the city's post-pandemic future ahead of elections. That could mean more pressure on drivers.
"We need to recreate that sense of community that we missed so much during the lockdown period," said Coia, who is up for re-election along with Mayor Virginia Raggi. "We need to rethink our idea of mobility."