China's Yuan Adds Most in a Year as U.S. Approves Trade Deal
Offshore Yuan Stages Biggest Rally Since August on Trade Deal
(Bloomberg) -- The yuan rallied the most in a year and Chinese shares rose as U.S. President Donald Trump signed off on a phase-one trade agreement.
The onshore rate advanced as much as 1% to 6.9570 per dollar Friday, the most since December last year and the strongest since Aug. 2 on an intraday basis, before paring. Trump's signing of the deal averts the Dec. 15 introduction of a fresh wave of U.S. tariffs, and includes a promise from Beijing to buy more U.S. agricultural goods, people familiar with the matter said. Officials also discussed possible reductions of existing duties on Chinese products.
The Shanghai Composite Index closed up 1.8%, its biggest gain since August. China's financial markets had lacked direction in the past month as investors awaited clues on the state of trade talks. While there was some optimism on Friday, investors remain cautious after a near-daily dose of conflicting headlines.
"Nothing really exceeded expectations, so there isn't much room for a fundamental rally," said Hao Hong, chief strategist at Bocom International. "But you have positive sentiment, and the uncertainty is out of the way."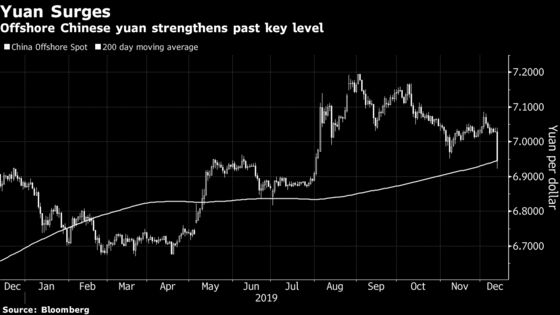 Airlines surged as the yuan strengthened. Air China Ltd. rose 5.9% and China Southern Airlines Co. jumped 4.8% in Hong Kong. Casino operators Galaxy Entertainment Group Ltd. and Sands China Ltd. led gains on the Hang Seng Index, which closed 2.6% higher -- its biggest gain since September.
The People's Bank of China set its daily yuan reference rate at 7.0156 per dollar. While that was the strongest since Nov. 20, it remained weaker than the key 7 per dollar level. The rate is calculated with formulas that take into account factors such as the previous day's official close at 4:30 p.m, the yuan's move against a basket of currencies and the moves in other major exchange rates. The onshore yuan can trade 2% either side of the fixing.
Brokerages rallied after the government said it would improve the effectiveness of fiscal policy in 2020. The Communist Party's annual economic planning meeting declared that the government would maintain economic growth next year within a "reasonable range," according to a summary of decisions carried by state media. The report also said the government and central bank will ensure reasonably ample liquidity. CSC Financial Co. rose 10% in Shanghai, while Tianfeng Securities Co. gained 5.9%.
"We might be able to say that the darkest hour, in terms of market confidence, is behind us," said Terry Shen, Co-founder of Leiton Capital in Shanghai. "If we are able to see evidence of an improving economy next year, it may be the start of something."
--With assistance from April Ma.
To contact the reporters on this story: George Lei in New York at glei3@bloomberg.net;Elena Popina in Hong Kong at epopina@bloomberg.net
To contact the editors responsible for this story: Sofia Horta e Costa at shortaecosta@bloomberg.net, Tian Chen