Norway Is Seen Leading the Way in Post-Covid Interest Rate Hikes
(Bloomberg) -- Norway's central bank said it may be able to raise interest rates earlier than previously thought, reinforcing the view it will be the first among holders of the world's major currencies to tighten policy as the economy recovers.
Keeping the benchmark rate at 0% as expected, policy makers said Thursday that their latest forecast implies a "gradual rise from the first half of 2022 as activity approaches a normal level" after the pandemic.
The krone gained as much as 0.8% against the euro.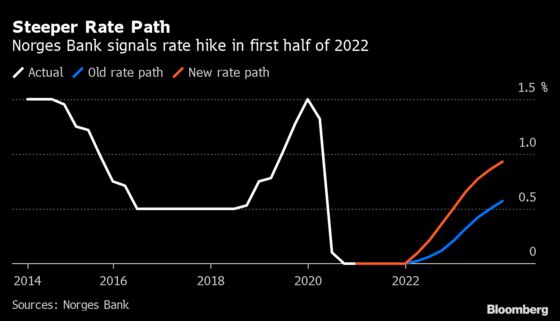 The outlook stands out among the world's key central banks from the U.S. to Japan, which are all expected to maintain ultra-loose policies for years to support their pandemic-stricken economies.
Norway, by contrast, has relied more heavily on fiscal measures to weather the crisis better than most. This year, it withdrew record amounts from its $1.2 trillion sovereign wealth fund, the world's biggest, easing pressure on the central bank.
Kristoffer Kjaer Lomholt, a chief analyst at Danske Bank who had expected policy makers to raise rates by December 2021, said his call "seems even more likely now" after Thursday's announcement.
What Bloomberg Economics Says...

"Abundant fiscal support to households and businesses will help Norway bounce back from the Covid-19 recession. We expect the central bank, which also takes financial stability into account, will be able to raise rates already in the first quarter of 2022 -- sooner than flagged today."

-- Johanna Jeansson, Nordic economist

For the full note, click here
Norway has never cut rates below zero or experimented with quantitative easing, in part because most of its stimulus has been fiscal.
The krone, meanwhile, will end 2020 as the worst performing of the world's 10 most-traded currencies, in part due to the economy's reliance on oil. That exchange-rate weakness has helped push inflation above the central bank's 2% target, with underlying annual consumer prices hitting 2.9% in November.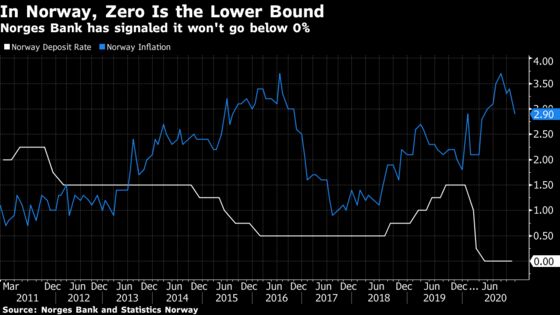 The central bank signaled that significant uncertainty remains, as the pandemic tightens its grip across Europe.
"The sharp economic downturn and considerable uncertainty surrounding the outlook suggest keeping the policy rate on hold until there are clear signs that economic conditions are normalizing," Governor Oystein Olsen said in a statement.