Norges Bank Sees Rate Hike in September Amid Hawkish Shift
Norway's central bank is preparing for a series of quarterly interest-rate increases after the summer, in a move that puts it ahead of most of the rich world in unwinding the crisis policies triggered by the pandemic.
Norges Bank will "most likely" raise rates in September, Governor Oystein Olsen said in a statement on Thursday. At a press conference later in the morning, he suggested the bank will deliver 25 basis-point hikes each quarter over the coming year. Previous guidance from the bank, which kept its main rate at zero as expected, pointed to tightening in the second half of 2021.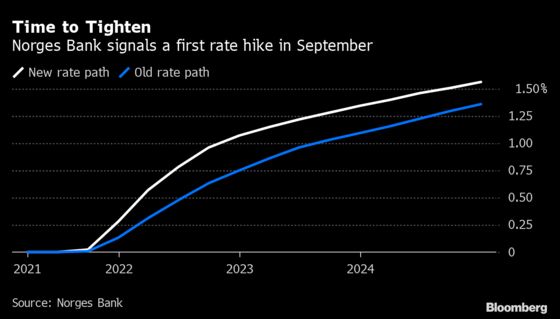 Norges Bank Sees Rate Hike Most Likely in September: TOPLive
The krone, which is among this year's best performers of the world's 10 most-traded currencies, initially gained about 0.5% against the euro. By 10:50 a.m. local time, it was little changed.
The hawkish signal from Norway had been anticipated amid signs the richest Nordic economy is recovering faster than its peers. It also comes less than 24 hours after the Federal Reserve sent shock waves through U.S. markets by indicating a faster pace of policy tightening than previously expected. The Fed's shift in tone follows months of speculation that recent spikes in inflation could be more than just transitory.
In Norway, where the government has been able to tap the world's largest sovereign wealth fund to boost the economy, recent data suggests that sentiment is rebounding as unemployment drops.
What Bloomberg Economics Says...

"We expect the quickening pace of the country's economic recovery to mean the benchmark rate reaches 1.5% by the end of 2024. The key question going into the meeting was how many rate hikes Governor Oystein Olsen and his colleagues would flag this year. The bank confirmed in its press release that September is the most likely date for lift off and signaled another hike in December...The economy is poised to gain momentum this summer as the government continues its gradual easing of restrictions."

----Johanna Jeansson, Nordic economist
Meanwhile, Norway's strong krone has led to slower price gains, with underlying inflation dropping below the central bank's 2% target last month. Norges Bank noted that underlying inflation "has slowed." But it also pointed to faster global inflation, which is "creating uncertainty" about future price growth. "As long as capacity utilization is rising, there is limited risk of inflation becoming too low," it said.
Norges Bank also signaled it was growing uneasy at the effect of ultra-low rates on the housing market. "A long period of low interest rates increases the risk of a build-up of financial imbalances," it said. "The Committee placed weight on the marked rise in house prices since spring 2020 but noted that house price inflation has recently moderated somewhat."
Norway is in the process of winding back Covid restrictions amid signs the pandemic is receding. Still, an update of the national vaccination schedule earlier this week pointed to possible delays in getting the population immunized amid an expected cut in supplies from Pfizer Inc.
"Further easing of Covid-related restrictions will help a return to more normal economic conditions," Norges Bank said. "This suggests that it will soon be appropriate to raise the policy rate from the current level."